Short Review: "Mute" by A Color Green To Be Released on VHS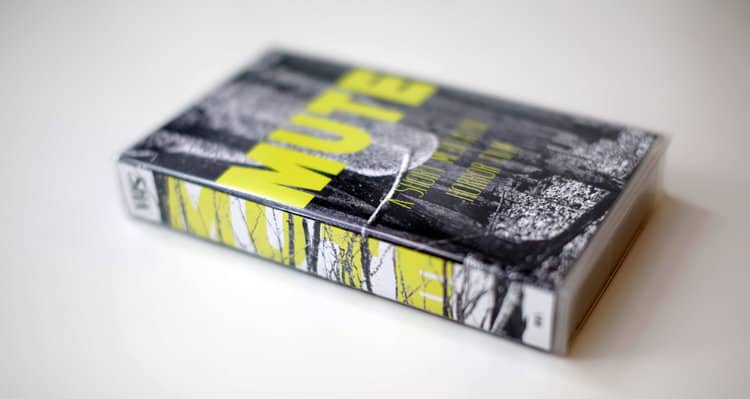 By: Brian Gerson
An eerie stillness echoes throughout the hollow sea of winter trees. Footsteps, frantic and hurried, rush through the miles of dead leaves. Two sets of breath whisper over the rolling hills: the first, distressed and frenzied; the second, short and steadily focused rage. A girl in an orange coat (Catherine Beckett) is caught and tackled to the ground by a man in a green long-sleeved shirt and a beige fishing vest (Albert Bendix). The two wrestle, the man uses a hunting knife and draws blood from the girl. He then drags her behind a tree and beats her. She then wakes up chained to a log, with her tongue cut out, next to two others also chained and mutilated.
Mute is an intense, nerve-wracking, nail-biting, tongue-tied, edge-of-your-seat-sitting five minutes. This short film is the directorial debut for the NYC street artist known as A Color Green, and will have you trying to remember how to breathe by the end. The story is elegant and concise, which is encapsulated by Alessandro Santoro's cinematography, causing the fear to become tangible as you watch. The acting was intense and powerful, the shots were gorgeous and stoic, the two being coupled together allowed for the performance to become engulfing and palpable. The grey scenery created a great visual canvas for the actors to stand out, masterful use of color to draw focus.
Mute has an underlying dark quirkiness to itself, with the film releasing on limited edition VHS this past Halloween, and the homepage on their website; an ominous black and white video of someone dressed in white wearing a mask of a deranged caricature face gesturing shushing into the camera. That dark quirk can be felt as an underlying tone in the film, adding an unconscious uneasiness for the audience. The concise elegance, the tangible fear, and the unsettling eeriness form the perfect storm of storytelling that is, Mute.
Keep The Fear Alive!
Please follow and like us: