We FINALLY Saw "Tales Of Halloween" And It Was Worth The Wait
(October 16, 2015) – Last Tuesday the Hollywood horror community gathered for the opening night of Screamfest 2015. The opening film is one that We Are Indie Horror has been anticipating for months. The opening night black carpeted event hosted the newest addition to horror anthologies Tales Of Halloween. Most of the directors were in attendance, along with their cast and crews. Practically the entire Los Angeles horror community showed up in support of the film. You could see the likes of Producer/ Blumhouse CEO Jason Blum (Insidious, Paranormal Activity: The Ghost Dimension) and horror legend Barbara Crampton (We Are Still Here (2015), Re-Animator)  who has a cameo in Axelle Carolyn's spine chilling segment, Grim Grinning Ghosts. After the long walk down the Black Carpet, everyone filed into the theater and the film began.
You would think having eleven directors work on one film would feel a little hectic and drawn out, but they managed to tell their stories in full without stepping on any toes or making a three hour film. All the stories were original and independent, and they all tied together in one way or another like all good anthologies should. Whether it was Adam Green's (Hatchet) cameo as Police Officer Carlo in multiple segments, or the Warriors-esque radio voice narrating; the film truly felt like one cohesive night in a sleepy town on Halloween. This movie had everything from aliens to devilish (and slightly homicidal) children. There was even an entire wild western chase on bicycles that got everyone a little too excited. Despite its dark and bloody nature, each segment had an air of fun and humor, clearly stemming from the directors' feelings towards Halloween. It shines through the screen that all the filmmakers had a great time working with their close friends on a project of love and passion.  According to Andrew Kasch, about 300 cameos appear in the film, making it the Where's Waldo of the horror industry. We didn't count that many, but practically every extra in the background is someone in the horror industry, you just need to look closely. Some faces were easy to spot, like horror legend John Landis (An American Werewolf in London) in Ryan Schifrin's The Ransom of Rusty Rex, but others were a bit harder, like The Conjuring director James Wan in… one of the shorts. Unfortunately we missed him, but Epic Pictures COO and Producer of Tales Of Halloween Shaked Berenson promised us he is in there somewhere.
When a group of friends who are so passionate about the genre and the holiday can come together and create a cohesive set of 10 stories, the result is a Halloween classic for life. The film itself is something special and wonderful. It is sure to become an annual tradition here at WAIH. The story of how the film was made and how hard everyone had to work not only allows the film to have so much more meaning but it becomes an inspiration to all. It was exceedingly clear at the after party held at Ripley's Believe It Or Not across the street, that this group known as the October Society are actually good friends in real life.
We Are Indie Horror caught up with some of the directors and cast on the carpet event. Hear them tell you the story of how this film got made and if you wanted advice from successful independent directors and producers; we got it for you! Check it out below.
Making movies with your friends is everybody's goal, and these guys made it happen. There is an important lesson here in that with the right people around you and a lot of hard work, anything is possible. Tales Of Halloween is out TODAY in select theaters and on VOD.
Keep The Fear Alive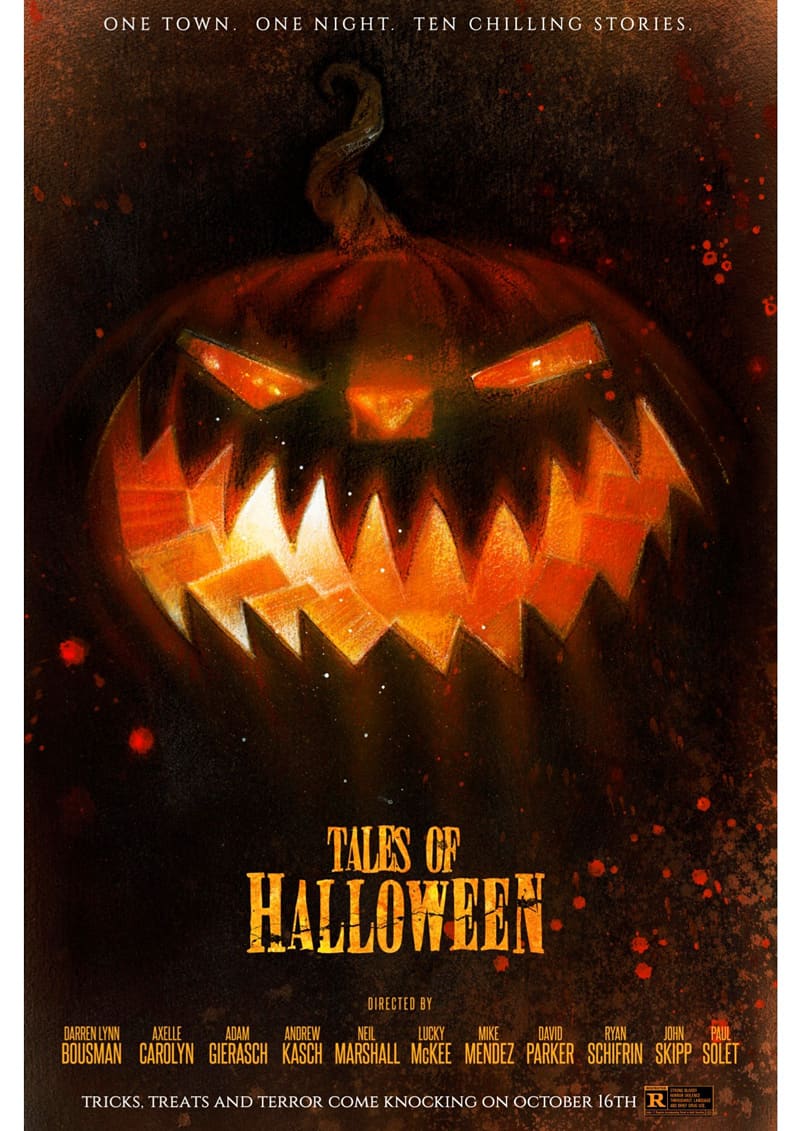 Please follow and like us: