Here at WAIH, we love to share things that are both independent and horror. Every once in a while, however, something will arise that is so great and not scary, that we want to share it anyways. This week we found four wonderful women who are showing the world that artists walk all different paths of life. Their web documentary series, From Bottom To Top, will seek out musicians, writers, directors, and actors, both emerging and critically acclaimed, and ask them all the same 20 questions. The plan is to show that it does not matter where you come from, or where you are, but humans are only that, human. Although this project isn't horror, these women all have very deep roots in our beloved genre.
Currently these women are running an Indiegogo for this beautifully creative idea. To support, head over to their Indiegogo page and check it all out HERE. Also their incentives to donate are a little bit different. These women are true helpers to society and 5% of all donations go towards the Lamp Community Arts Program on Skid Row along side other community service projects. Helping out on this project means more than just seeing an artist's dreams come true, you are helping to inspire art around the world and in the community as well as helping out the those in need.
---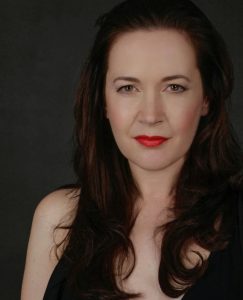 Bel Delia
The creator of From Bottom To Top is Bel Delia. She first began working in production at Nine Network Australia, producing several commercials, as well as many large-scaled TV and documentary productions. Her acting debut was starring as 'Natasha Warner' in Carlo Ledesmas Australian horror film The Tunnel. The film reached international cult status after premiering at ScreamFest. Bel has since acted in a number of projects, including an award winning performance in The Last Roll Of The Dice, Love Of My Life, Gene Blalock's Horror Haiku, and in Aimee Long's 2014 Sci/Fi short Distance, where she starred alongside Geoffry Arend and Modern Family's Aubrey Anderson-Emmons.
---
The shows co-producer, Camilla Jackson, another Australian native, has an intense love for horror, especially those from the 70's and 80's, as well as ozploitation. She was a regular on the Australian soap show Neighbours, but is most recognizable as the face of a National Health Insurance campaign that ran aggressively throughout Australia for 5 years. She relocated to Los Angeles in pursuit of a less commercial career. Camilla soon teamed up with Lee Gamblin from Fangoria to help conduct interviews for an Australian cinefile group called Cinemaniacs.
Camilla Jackson
Camilla has interviewed many well known figures from the horror  world from her lounge room including Dean Cundy, Tommy Lee Wallace, Carl Gottlieb, William Ragsdale, Peter Bogdanovich,Dee Wallace, Lewis Teague, Judith Hoag and Rosanna Arquette to name a few. Camilla is currently a contributing writer to Fangoria and Sinful Celluloid. As for her acting career, she was recently cast in Mike Mendez's new film, The Last Heist, starring alongside Henry Rollins (Black Flag, Sons of Anarchy) and Kristina Klebe (Halloween 2, Alleluia! The Devils Carnival). Camilla's comedic science fiction web series, The Milli Show, will be premiering by the end of 2015. An intergalactic variety show with a twist where you can expect to see guests such as Donnell Rawlings (Chappelle Show) and Jeff Richards (SNL). Apart from all that amazing work, Camilla also dabbles in music, playing in an indie rock band called The Sirens of Venice, where she plays atmospheric guitar and back up vocals. Camilla's spirit is free and surrounded by art, where on top of aforementioned she is also creating box pop work for Ellen Degeneres.
---
Annalea Fusci is the other Co-Producer for From Bottom To Top. Her path to horror started early, at the age of 6 when her blood curling scream at the hands of a spider caused her grandfather to suggest a pursuit in horror. Her love for horror was bittersweet, watching horror films from behind a pillow, tearing up anything that she could grab when the film got too scary. It was the combination of comedy and horror together in which she had a change of heart. Films like Young Frankenstein, and Evil Dead spoke to her, gave her a calling. Her first roles were in a few horror shorts, where she played everything from a teenage hitchhiking murderer to a possessed little girl. She grew tired of washing fake blood out of her hair, so Annalea decided to take her career a different path.
Annalea Fusci
She soon began her own production company at the age of 19, making horror shorts and producing commercials for local businesses. She has since created a horror web series, produced a music video for a Grammy award winning artist, and is currently working on a comedic zombie series, as well as a hilariously chilling exorcist movie.
Annaleas life is shrouded by both art and adversity. At the age of 2, Annalea was diagnosed with Leukemia, which lead to her spending a year at the Children's Hospital. She fought hard and stayed resilient, doing arts and crafts with the nurses and her family. Once healed, Annalea's life became about art. At 3 years old she began to play the piano, joined dance teams, and began acting and singing. She recognizes how important art was to her healing process, and spends her time helping others through art. She hopes that From Bottom to Top will "inspire the artist within us all."
---
The last Producer on From Bottom To Top is Colorado native Arielle Brachfeld. Brachfelds acting career began shortly after moving to Los Angeles, snagging a role in Hank Braxtons fan cult hit, Return of the Ghostbusters. Her love for horror was solidified after starring in Jose
Arielle Brachfeld
Prendes' The Haunting of WhaleyHouse, and her award-winning performance in Brandon Scullions Live-In-Fear. She began to stretch her production abilities with Hank Braxtons Chemical Peel, in which she co-wrote as well as starred in. The project came about because Arielle wasn't getting the types of roles she wanted to play. She sat down with Hank Braxtan, Dan Sinclair and Natalie Victoria to come up with a powerfully dramatic movie that focused almost exclusively on women.
Arielle has acted in several other films including: Axeman 2: Overkill, Good Family Times, and the noir thriller Day for Night. She produced, co-wrote, and starred in the modern retelling of Shakespeare's Macbeth, The Letter Red. Arielle is also very proud to call herself an official Horror Scarlet, who are a breast cancer charity fundraising group.
---
Be sure to follow this great series and join in on the discussions all over social media.
www.frombottomtotop.org
Facebook
Twitter: @BottomtoTop
#FromBottomToTop