This past year, We Are Indie Horror has been lucky enough to showcase some extremely talented individuals who are working hard to have their names noticed when it comes to horror. Here is part three of our Featured FearMaker Rewind, be sure to catch up on Part I and Part II
---
July 4 – April Bedan
Now anyone in April's position would find themselves at an eventual impasse. Does she continue making music videos, or try her hand at cinema? Inspired by one of KARDIAC's songs, April began to work on her first short film, I Wish I Could Forget. April worked on location scouting while KARDIAC penned the script. Her luck struck once again when she was granted full access permission to shoot her film at the Graystone Haunted Manor, a horror attraction in Longview, Texas. The film stars KARDIAC, Dusty Bean, and Keith Brooks, with April Bedan directing. The film went on to screen at a few festivals, including Etheria's Women Underground at the world renown Egyptian Theater in Hollywood, California.
---
July 11 – Matt Harris-Freeth
Obstacles and opportunity are not exclusive to funding. According to Matt, the key to successful filmmaking is perseverance and a good team. "Surround yourself with talented people that you enjoy collaborating with."Says Harris-Freeth "Making films can be challenging with very long hours, so it's better to be around people you trust and enjoy being [around]." But the most important thing is to not stop creating. Not only does constant practice improve skill, but it also gives a reputable status to the name. "The more you do it the more you learn and the more you become known for doing it.
---
July 18 – Jessie Seitz
Jessie had a brief encounter as an Executive Producer on Ratline after she moved to Austin, Texas to work as a model and actor. She then went back home to Decatur, where she found a good group of filmmakers to work with. Recently, Jessie started her own production house, Capricorn Rising, which just finished shooting a film called Devotion, written and directed by Seitz. She has also kept busy in front of the camera, appearing in Woodsmen: Forrest Of Pain, as well as in a documentary about Jim Van Bebber titled Diary of a Deadbeat.
---
July 25 – Dick Grunert
Horror really is one of the most versatile genres, one that can incorporate every other genre within it, and never lose it's original horror essence. Dick Grunert studied Film & Video at Columbia College in Chicago, Illinois, where he graduated in 1996. In 1997 Dick moved to Los Angeles, where he got his first job as a production assistant on the short-lived Men In Black: The Series. Dick had found his niche and has consistently found work in the writing and production of some popular cartoon series, including The Boondocks, Class of 3000, and Adventure Time
---
August 1 – Lauren Morris
Lauren eventually moved to Austin, Texas where she has been doing foley work and sound design since 2005. Her appreciation for horror didn't come until 2010 when she began to work on her first horror project. " I find horror to be an extremely creative place to be in terms of combining music and sound design." Says Morris about working designing sound for horror. She found that her background with Celtic music would provide an excellent backdrop to her horror soundtracks. "As a traditional Irish musician, drones and melody are a huge influence in my work and they work well in horror to tell the story."
---
August 16 – Ryan Shovey
Shovey created Zeik's Bad Day (Web Mini-Series), Just Take Your Time (Music Video), and Hunter (a horror short throw-back to Halloween and Scream) which was intended to become a feature-length slasher/ horror film. Hunter also premiered at the ShockFest Film Festival in Los Angeles, CA, where it was nominated for Best Short Film and Best Editing, and won Best Slasher Short Film at the Fear Fete Film Festival. Finally, Shovey directed his first TV Spec Pilot, Help Wanted, and another horror short titled The Audition, which has also played many horror film festivals across the United States.
---
August 22 – Christopher Ambriz
Ambriz studied film and television in college, and in 1998, he created his own production company, Night Creature Productions, with his filmmaking partner Louis Alvarado. Together the duo has created several documentaries, commercials, music videos, and short films, all of which include distinct Hispanic characters and folklore. Many of his films surround a swapmeet-like store, with an old woman behind the counter. She sells trinkets and hands out fortunes, many of which lead into terrible situations for the film's protagonists.
---
August 29 – Nathaniel Barber
Nathaniel Barber is a native to Arlington, Texas, where he first learned about the glory of horror though his father. A man passionate about the dark and macabre genre, he passed his love down to his son as they watched classic Universal Monster movies together. This led to a snowball effect for Barber, who turned to a life of filmmaking. "Horror is an important genre because it explores flawed characters on the worst days of their lives." Says Barber. "Real drama emerges and characters are forced to make quick decisions. Those decisions determine who that character is and where they are going. The monsters in horror films can also be used to attack character flaws and increase the terror."
---
September 5 – Jeff Frumess
During film school, Frumess worked a lot as a Production Assistant (PA) for free. Long hours, tedious work, and generally overworked and under-appreciated, there was only so much he could learn working on a set as a PA. This was until he read Robert Rodriguez' Rebel Without A Crew, in which he details the ultra-low budget making of El Mariachi. The book reached out to Frumess, who quickly realized that all he needed to make films was already inside him. He didn't need to move to a big city or work with large crews. As long as he had a script and a camera he was ready to shoot.
---
September 12 – Matt Dorado
The first Drunken Devil haunt, Sinners Soiree, took place in 2015. This endeavor was particularly difficult for Matt, who despite the success of the haunt, left him feeling unfulfilled. "It was a difficult first year and I wasn't happy nor content with what I had produced." Immediately after producing the Soiree, Matt was immediately immersed into the underground gay nightlife scene, filled with dancing, disco, and the freedom to let inhibitions go for a night. Dorado fell in love with the scene, as well as the people in it, and changed course from haunted houses to horror nightlife. He was to throw lavished parties filled with quality entertainment, disco, and horror.
---
September 19 – Jesse Heisel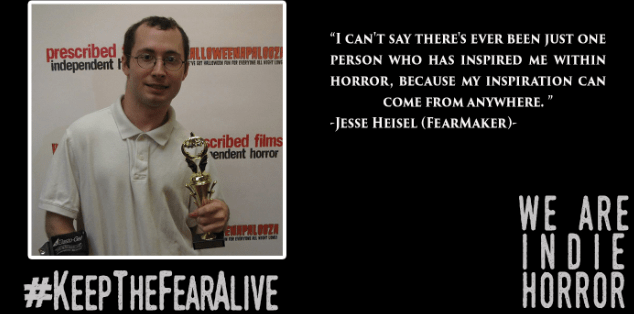 During his Senior Year at UI, Jesse began writing his first feature-length movie script, Mello. While still earning his degree, Heisel not only finished writing the script but also funded a small budget to make the film. During the Summer of 2013, Heisel directed Mello. The movie premiered in Iowa City, IA at The Englert Theatre where it received a great response. In 2015, Heisel began to embark in the world of film festivals. Not only did he win an award in every film festival he was accepted into that year, but he also made history. At the 2015 Bare Bones International Music and Film Festival, Heisel made two historic moments happen. First, he was the first "Student" filmmaker to ever be nominated for the festival's top award, The Indie Auteur of the Year Award. His second historic moments was he was the first "Student" filmmaker to ever win The Indie Auteur of the Year Award.
---
September 26 – Adam De La Cour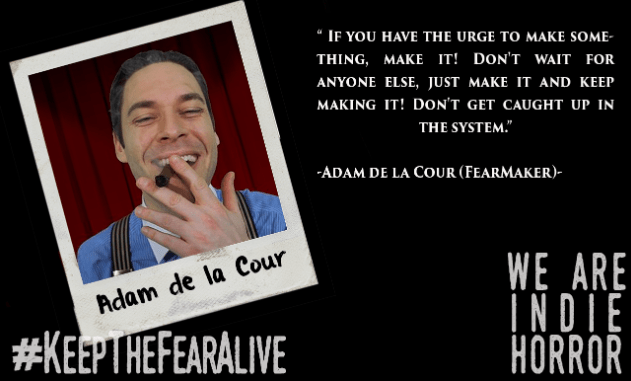 After receiving his Ph.D., Adam de la Cour had several of his pieces performed on several continents while performing with Zipperface in venues like Underworld, Camden, and the Clapham Grand.
In 2013, de la Cour began making films. Something he'd been wanting to do for quite some time, he has made 9 short films which have screened at Whitechapel Gallery, Canterbury Fringe and Supernormal Festival (2015) as part of Exploding Cinema. He has recently made a short film for Troma called Mr Topps, which is set to be released as a special feature on the Return To Return To Nuke 'Em High Vol. 2 Blu-Ray. Lloyd Kaufman himself plays a part in Mr Topps as well.