Beginning in just a few days is the monstrous and notorious Fantasia International Film Festival in Montreal. This time around, the world wide genre festival is celebrating their 20th anniversary. The massive three-week festival always had a soft spot for our beloved horror genre and this year is their biggest yet when it comes to the scary ones. What follows is a full comprehensive list of all the horror films coming to Fantasia 2016
---
Abattoir (USA, International Premiere
Darren Lynn Bousman
"How do you build a haunted house?" The job of real-estate reporter Julia Talben (90210's Jessica Lowndes) is set on a hellish new path when her family is savagely murdered. In freakishly short time, the house — the crime scene — has gone up for sale, and when Julia goes by for a final look, she's horrified to discover that the entire "murder room" where her family was slaughtered has been torn out of the building. Using the investigatory tools of her trade, she discovers that this has been happening a number of times — random killings, home purchased, kill room torn out of the structure. The common thread? A mysterious buyer by the name of Jebediah Crone (SON OF ANARCHY's Dayton Callie).
WAIH Editor's Note: Abattoir is one of We Are Indie Horror's favorite films in the past five years. Most likely this year's best thus far.
---
Atmo HorroX (Canada, North American Premiere
Pat Tremblay
It might be the story of an extraterrestrial invasion in a Quebec suburb. Or maybe the unlikely misadventures of a very, very special agent, on a mission to thwart monstrous spies from another world. Then again, it could be the unleashing of the servants of Satan, with the gates of hell thrown wide open. On the other hand, it's perhaps a reconstruction of a nightmare Philip K. Dick described to his psychiatrist after his first night sober in 10 years. Whatever it is, it's something else. There are definitely unexpected disappearances, a picnic in the park gone wrong, negative effects from junk-food overconsumption and, why not, an new drug on the street, a hallucinogen with devastating side effects. One thing alone is certain — rational thought has left the building and hasn't left a number where it can be reached.
---
Bad Blood (USA, International Premiere
Tim Reis
What could have possibly caused Dr. Mark Beltran, esteemed scientist, to become a homicidal maniac? How could he have escaped from a maximum-security prison on the night of a full moon? What's going on in the basement of the local Texaco station? And what's up with that weird guy behind the counter? About to find out the answers to these questions is Victoria, an innocent college student home on break who encounters the doctor in the dark of night on an innocent stop for gas. Although it isn't the good doctor she encounters, per se, and if by "encounters" you mean, "is torn to pieces by", then that's much more accurate. With no body found or signs of Victoria in the weeks that pass, her family hires private detective Paul Stenland, whose unorthodox methods may not gain confidence, but they yield results: Not only does he find Victoria alive, but he also uncovers the mysterious link to the gas-station attendant and Dr. Mark Beltran. Let's just hope for his sake he doesn't figure out what's the deal with all those frogs in the station's makeshift basement laboratory…
---
Bed of the Dead (Canada, World Premiere
Jeff Maher
When two young couples book a room at a seedy sex club for a birthday orgy, they bribe their way into a forbidden room that contains a massive, wooden bed, which happens to be carved from a cursed tree. They soon find themselves stranded when something pulls one of them beneath it. But this film ain't about your garden-variety bedtime boogeyman. Rather, it features a sentient piece of furniture that preys upon its victims' biggest fears and desires, punishing them for their sins. As the hallucinations mount, so does the body count. With the help of a troubled cop on the other end of the phone, the survivors must look to their own dark pasts to discover a way out.
---
Before I Wake (USA, Special Screening
Mike Flanagan
From the moment that Jessie (SUPERMAN RETURNS' Kate Bosworth) and Mark (THE MIST's Thomas Jane) adopt eight-year-old Cody (ROOM's Jacob Tremblay), they realize that something's not quite right with the mostly happy child. What they don't know is that he's been doing everything possible to prevent himself from falling asleep. You see, Cody is simultaneously blessed and cursed with a supernatural gift that allows for his dreams to become physical in reality while he sleeps. At first, Jessie and Mark feel as if they're participating in a miracle when they experience his subconscious imaginings draped across their home. They soon realize the terrible downside to the situation, and the reason why Cody can't bear to be asleep around those he loves. His nightmares manifest every bit as physically in reality as his dreams.
---
Creepy (Japan, Canadian Premiere
Kiyoshi Kurosawa
A year after having been injured by a serial killer right in the middle of his own station, Detective Takakura quit the force to teach criminal psychology, and has recently settled into a small quiet new house with his wife Yasuko. When an old colleague asks him to assist in an unsolved investigation into the disappearance of several members of the same family, Takakura can't resist getting involved in the twisted case. Meanwhile, Yasuko's exploration of her new neighbourhood introduces her to Nishino, a mysterious neighbor who lives with his daughter and ailing wife. While initially seeming simply unsocial, his behaviour becomes increasingly troubling as he insinuates himself into Yasuko's life. The notion that Nishino might be a dangerous psychopath begins to invade the retired detective's thoughts. Whether his obsession for serial killers makes him vulnerable to bouts of paranoia or enables him to discover his neighbour's plans, Takakura has just begun a long descent into hell.
---
Demon (Poland, Quebec Premiere
Marcin Wrona
Londoner Peter (Itay Tiran) arrives in the Polish countryside, set to marry his best friend's sister Żaneta (Agnieszka Żulewska) at their parent's beautiful (if slightly creepy) country house. They've generously given the young couple the residence as a wedding gift, but it needs a lot of fixing up. Digging up the yard one day, Peter stumbles upon what seem to be… bones. He puts this out of his mind, gets suited up and ties the knot. Things are going well, the night is exuberant and boozy. Yet, as it progresses, Peter's health starts to deteriorate into increasingly frantic misbehaviour. First attributed to nerves, then alcohol, his attitude slowly, but surely gets out of hand, however, to the point where the possibility of a supernatural cause cannot be dismissed…
---
The Devil's Candy (USA, Quebec Premiere)
Sean Byrne
Struggling artist Jesse, his wife Astrid and their daughter Zooey buy a dream home – that they never could have afforded were its price not brought down significantly due to the horrors of its past. Shortly after moving in, Jesse's art begins to… change. He begins to hear voices. One day, the unstable son of the home's former owners shows up at their door, electric guitar in hand, insisting on being allowed to return home. They refuse to let him in. The voices start getting louder. The prodigal son is coming home, come literal hell or high water. The devil has a claim to collect. Bodies will break.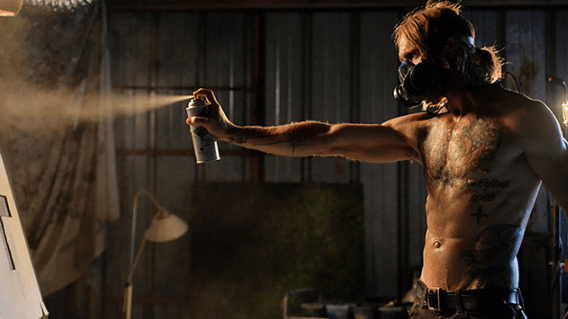 ---
Don't Breathe (USA, Canadian Premiere – Closing Night Film
Fede Alvarez
A trio of friends break into the house of a wealthy blind man, thinking they'll get away with the perfect heist. They're wrong…
Following his remake of Sam Raimi's beloved EVIL DEAD, Alvarez raises the stakes and unveils the aptly-titled DON'T BREATHE, a sophomore effort that cements the director's place in contemporary horror's pantheon. A labyrinthine, reverse home-invasion film best left to be discovered, let us simply say that Alvarez's latest instantly joins the high-concept ranks of Saulnier'sGREEN ROOM and Fincher's PANIC ROOM (and even Hitchock's ROPE!), providing that rare kind of directorial bravado that reveals a closed space's endless potential for deathly invention!
---
The Eyes of My Mother (USA, Canadian Premiere
Nicolas Pesce
First-time writer/director Nicolas Pesce's black-and-white nightmare had everyone talking—and screaming—during its Sundance launch, and now THE EYES OF MY MOTHER sets it bloody peepers on Fantasia. This rural horror show jangles the nerves from the get-go, when a curly-haired lunatic arrives at the remote farm of an odd family. Alone with her young daughter Francisca, Mother, a former Portuguese surgeon with an eyeball fixation, makes the mistake of letting the man into the house. Father later arrives home and is none too pleased to find his wife butchered in the bathtub, while his daughter quietly sits in the kitchen. After Father and child "handle" the psycho, the story jumps ahead to follow the adult orphaned Francisca as she adopts some unusual coping skills in dealing with her past traumas, terrible loneliness and a few very violent tendencies.
---
The Inerasable (Japan, Quebec Premiere
Yoshihiro Nakamura
"I," a nameless mystery writer, finds inspiration in her readers' letters. When an architecture student named Kubo (Ai Hashimoto) reaches out, alarmed by the creepy swooshing sounds she hears coming from a small room in her low-rent apartment, the writer connects the dots: the story sounds eerily familiar to that of another letter, from a previous tenant of the same building. Intrigued by the coincidence, "I" decides to meet Kubo, and as both unveil histories of suicide and violent crimes, they fall down the rabbit hole of a full-fledged paranormal investigation.
---
Lights Out (USA, Special Screening
David F. Sandberg
From producer James Wan (THE CONJURING and INSIDIOUS franchises) comes a tale of an unknown terror that lurks in the dark. When Rebecca (Teresa Palmer) left home, she thought she abandoned her childhood fears. Growing up, she was never really sure of what was and wasn't real when the lights went out… and now her little brother, Martin (Gabriel Bateman), is experiencing the same unexplained and terrifying events that had once tested her sanity and threatened her safety. A frightening entity with a mysterious attachment to their mother, Sophie (Maria Bello), has reemerged. But this time, as Rebecca gets closer to unlocking the truth, there is no denying that all their lives are in danger… once the lights go out.
---
The Lure (Poland, Quebec Premiere
Agnieszka Smoczynska
One enchanted evening in early '80s Warsaw, Poland, famished heart-eating sister sirens Golden (Michalina Olszanska) and Silver (Marta Mazurek) emerge from the sea in search of prey. They soon find themselves joining an erotic discotheque act, enabling them to use their transformative mermaid skills as a rather ultimate dancer performance attribute. They call their act "The Lure". The plan is to stay in human form temporarily in order to explore earthly experiences, but things become complicated when Silver develops feelings for her act's bass player, setting forth a grotesque and beautiful chain of events best left for you to discover.
---
The Master Cleanse (USA, International Premeire
Bobby Miller
People do ridiculous things in moments of heartbreak. Paul (Johnny Galecki) joins a spiritual retreat. Worse decisions could have been made. Or, perhaps not. The retreat that poor Paul has signed up for is a rather unusual and secretive one, run by a certain Ken Roberts (Oliver Platt), whose approach to inner growth is perhaps a touch too literal. The regimen that he will put Paul and his fellow maladjusted retreat-mates is a tough one. The results it brings are… well, they're certainly difficult to deny. Or ignore. Or live with.
---
The Piper (South Korea
Kim Gwang-Tae
In the aftermath of the war, humble widower Woo-ryong and his son Young-nam are journeying by foot to Seoul, where the penniless musician believes he can get treatment for the boy's illness. One morning, they notice an inconspicuous path off the mountain road, and on impulse Woo-ryong follows it. It leads them to a small, nameless village where their arrival is met with apprehension. The village leader affords them hospitality, if not a warm welcome. When it comes out that the town is plagued with rats, Woo-ryong — whose lively pipe-playing seems to have a compelling effect on animals — offers to rid the village of the awful infestation. A deal is struck and the deed is done, but deception is afoot and a nightmare has only just begun.
---
The Priests (South Korea, Quebec Premiere
Jang Jae-hyun
Even in this modern era of high technology, advanced medicine and predominant rationalism, demons — ancient entities hateful of God's love for His children — stalk the shadows of our world. One has taken as its host a teenage girl in Seoul, South Korea. The girl's parish priest, Father Kim, has been struggling to drive the demon out, an ongoing battle that has cost him a series of assistants. Though the Catholic Church wants no public association with the presumably archaic act of exorcism and has its suspicions about Father Kim, it nonetheless pairs the callous, borderline burnout up with Deacon Choi, a rebellious young seminarian. Lucky for them, only minor demonic manifestations ever happen in Korea, nothing that can't be overcome quickly enough with a bible, a Bach CD, a piglet, and a tube of toothpaste… right?
---
La Rage du Démon (Fury of the Demon) (France, Canadian Premiere
Fabien Delage
Paris, January 2012. The famous American collector Edgar A. Wallace — not to be confused with the crime novelist — invites the media en masse to the screening of a film from 1897, long assumed lost and sometimes regarded as an outright myth: LA RAGE DU DÉMON. According to some, the film is by Georges Méliès. Or perhaps Victor Sicarius, a forgotten friend of the fantasy film pioneer, one versed in dark ways of the occult. The screening becomes a nightmare, the audience gripped by a murderous frenzy — as it has every time the film has inexplicably surfaced, once in each century. Christophe Gans, Alexandre Aja, Philippe Rouyer and other celebrated cinephiles give credence to the legend of this cursed film, "the most troubling in the history of cinema…"
---
Red Christmas (Australia, International Premiere
Craig Anderson
Senior matriarch Diane (Dee Wallace) is having her children and their significant others over for one final Christmas gathering in their family home before she sells it. Things are going pleasantly enough, but that all changes when a bizarre, cloaked stranger shows up at their door covered head-to-toe with bandages. His name is Cletus and he shows Diane a letter with the word "mother" scrawled on the envelope. As fate would have it, Diane had a difficult abortion 20 years ago, and during her procedure, the clinic was bombed by a religious zealot. Said zealot escaped with her half-dead fetus, adopted it, nursed it back to a semi state of health and brought it up with religious fundamentalist beliefs! Today, the bomber is dead and Cletus, now a disfigured hulk with a congenital disorder, has found his mother and siblings. Merry Christmas!
---
Shelley (Denmark, North American Premiere
Ali Abbasi
Elena is a broke single mother on the verge of a burnout, looking for a break from her daily obligations. A change of scenery would be welcomed, especially one involving a small country house far from the city. When she learns of a couple looking for a maid to take care of their forest dwelling, she jumps on this seemingly fortuitous opportunity. Upon arrival, Elena realizes that her employers have a somewhat unusual lifestyle. They don't eat meat or use electricity, and they keep contact with the outside world to a minimum. With an unbreakable three-year contract, the young woman complies without complaint. At least she found the peace and quiet she's been looking for. But her bosses have one more favour to ask of her. Unable to conceive, they want Elena to be their surrogate birth mother — for a handsome sum, of course. Flattered by her employers' kindness and generosity, she accepts, unaware that her life has just capsized into unspeakable horror. Elena starts to notice signs suggesting that whatever it is she may be carrying inside her, it's far from human.
---
Therapy (France, World Premiere
Nathan Ambrosioni
Authorities find video recordings inside an abandoned house in the middle of the forest. At first glance, they don't seem to contain anything unusual. They show five tourists taking advantage of the seasonal weather to go camping. Had they all not disappeared without a trace, nobody would have given this home movie a second look. Detectives Jane and Simon, however, believe that it holds the key to the mystery at hand. As they continue watching, they discover that the group's fresh-air excursion takes a sudden turn for the worst. Disquieting cries can be heard and an entity awaits nightfall to stalk its prey. Seized with panic, the young campers reluctantly end up in an abandoned building where it quickly becomes obvious that they are not alone, and that they've stepped into their own graves. To save them from the claws of a living monster, Jane and Simon will have to act quickly, even if it means risking their own lives in the process.
---
Train to Busan (South Korea, North American Premiere
Yeon Sang-ho
A career bureaucrat, Seok-woo (Yoo Gong) has always prioritized work over family. The result is a divorce and a daughter, Su-an (Kim Su-an), whose only birthday wish is to go see her mother in Busan. When they board the high-speed KTX train at the Seoul station, little do they know that an unprecedented crisis is afflicting the city or that a young woman with strange bruises managed to sneak aboard before departure. Barely out of the gate, the train has suddenly become the setting for a series of savage attacks that turn the crazed passengers into zombies. In order to survive this speeding nightmare on rails and protect Su-an, Seok-woo will have to join forces with a two-fisted goon (Ma Dong-seok), a power-hitting college baseball star (Choi Woo-sik), a spunky cheerleader (Ahn So-hee) and an unscrupulous businessman (Kim Eui-sang).
---
Under the Shadow (Iran/UK/Jordan, Quebec Premiere
Babak Anvari
Tehran, 1988. Eight years into the devastating Iran-Iraq conflict. Amidst the ever-present threat of sudden destruction, Shideh (an incredible Narges Rashidi) is desperately trying to keep her family sane, a difficult task which becomes nearly impossible when her husband is conscripted into battle and sent directly into the front lines. Alone with her daughter Dorsa, Sideh's strength is challenged even further when a missile crashes through the ceiling of their apartment, killing a neighbour yet miraculously failing to detonate. It soon becomes clear that the projectile's arrival has brought something else with it. A terrifying djinn may be stalking Sideh's building, its possession-hungry sights set firmly on her terrified daughter. More neighbours flee by the day, leaving Sideh and Dorsa increasingly on their own, trapped inside their apartment as their world spirals deeper and deeper into absolute horror.
---
The Unseen (Canada, World Premiere
Geoff Redknap
Everyone knows the tale of the Invisible Man, but have you heard the one about the slowly-turning-invisible-man? That's just one twist making THE UNSEEN an unforgettable entry in this year's Fantasia lineup. Aden Young, star of TV's RECTIFY, plays Bob Langmore, a struggling mill worker in a small northern town. But barely making ends meet isn't his biggest problem, as he's also hiding the fact that he's gradually going invisible. And Bob's not simply fading away but disappearing in chunks, which makes him look like the victim of a hideous flesh-eating disease. When his ex-wife, Darlene (Camille Sullivan of THE MAN IN THE HIGH CASTLE) asks him to visit his rebellious daughter Eva, he takes a driving job for a local drug dealer and returns to the city. Shortly after his arrival, Eva (Julia Sarah Stone, THE KILLING), goes missing and he suspects the teen has been taken because she shares his affliction. With the drug dealers threatening him and his condition worsening, Bob must find his daughter before they're both gone for good.
---
The Wailing (South Korea, Quebec Premiere
Na Hong-jin
A wave of grim killings and savage attacks are shaking up the rural town of Goksung. This inexplicable chain of insane events is sparked by an excessively violent, ritualistic double homicide, followed by the discovery of three mutilated bodies and two badly burned and enraged individuals at the scene of a fire. Flabbergasted by what's happening, Sgt. Jeon Jong-gu heads the investigation, trying to explain the cause of the homicidal chaos plaguing his city. The clues are as rare as they are vexing. First of all, all the suspects have developed an extreme, pestilent skin rash. Then there are the terrifying rumours concerning the strange Japanese man having taken residence in the neighbouring forest, and the strange lady prophesizing that he will bring death and misery to the village. When Jong-gu's daughter is gripped by a fit of aggressive behaviour indicative of demonic possession, an aspiring priest and energetic witchdoctor arrive on scene to defeat the curse assailing the citizens of Goksung.
---
We Are the Flesh (Mexico, North American Premiere
Emiliano Rocha Minter
A brother and sister escape humanity's insanity in search of a better world, their wanderings unwittingly leading them into a dilapidated building inhabited by a modern-day ogre. Trapped in this hall of madness, the newcomers must submit to the rules of this Caligula-like being who claims to be immortal. Their very survival depends on their blind obedience to the master of the house. They must eat his food, wear his clothes and especially, enact his dangerously perverted fantasies. Far from prying eyes, this guru of the flesh pushes them to explore the dark side of our puritan society's taboos. S&M, incest, cannibalism, nothing is off limits during his sessions, all mystic rituals with the same goal in mind: to reach transcendence through orgasm. Playing with dark magic, however, has disastrous consequences for the unlikely trio and it's only a matter of time before their ultimate sacrifice takes on apocalyptic proportions.
---
We Go On (USA, Canadian Premiere
Andy Mitton, Jesse Holland
How far would you go to conquer your fears? Miles Grissom (Clark Freeman) is willing to go $30,000 far, offering the considerable sum as payment to anyone who can squelch his paralyzing fear of death by showing him proof of any sort that life may go on after we die. A ghost, a provable past-life memory, an unexplainable series of events with impossible yet clear and consistent links, anything at all that cannot be faked or debunked. His classified ad brings on thousands of responses. Almost all are clearly frauds. Three may not be. Miles needs to meet with them each. Despite his nagging dread. Despite his mother's protests. For better or for worse, Miles is going to find the answer he's been looking for.
---
White Coffin (Spain, World Premiere
Daniel de la Vega
While on the road in search of a better life, Virginia (Julieta Cardinali of NECROPHOBIA 3D) and her daughter Rebecca stop at an isolated gas station. Suddenly, Rebecca vanishes and Virginia is plunged into a frantic search for her beloved daughter. Faced with every parent's worst nightmare, she frantically searches for clues, attempting to piece together her daughter's location. On her search she encounters two other women, Angela and Patricia, who are on the same desperate mission. The closer Virginia gets to unraveling the disappearance of her daughter, the more supernatural forces seem to surround her as she discovers a religious sect, a history of tortuous rituals dating back decades, and an enigmatic man (Rafael Ferro of MEMORY OF THE DEAD) who gives her clues to her daughter's whereabouts. Buckets of blood are spilt and Viriginia is faced with the question — to what lengths would I go to save my loved one?
---
Yoga Hosers (USA, Canadian Premiere)
Kevin Smith
Colleen Collette and Colleen McKenzie are two inseparable 15-year- olds. They're in the same band, both share a passion for yoga and both work together at Eh-2-Zed, the local corner store. Like all girls their age, they're constantly glued to their phones or some tabloid rag. The pair are euphoric when two older boys invite them to a party. The fact that they have to go to work, however, puts a sudden hamper on their extreme happiness. As if things couldn't get any worse, they're suddenly attacked by an army of little sausage-shaped Nazi monsters known as Bratzis. Naturally, nobody believes their story. Except for legendary Montreal detective Guy Lapointe, who connects it to the death of Quebec politician Adrian Arcand, founder of the National Christian Social Party back in the '30s. The Colleens will have to fight what might possibly be the first wave of Nazi invasion on Canadian soil.
---
Well We Are Indie Horror community, there you have it. If you are looking for tickets for this incredible lineup just hit up the important links below for all ticketed information along with screening times and locations. Will you be checking any of these out? Which one looks awesome to you?