John Fitzpatrick is a name you may have heard on We Are Indie Horror before. He is the mind behind the hit short horror film Skypemare, which has reached over one million views on YouTube, as well as the mastermind behind the monthly horror episodic Scary Endings. Over the last year, we've been talking a great deal about John and his works, including his latest short film, which is just breaking onto the film festival circuit, Brentwood Strangler.
Adam J. Yeend (Skypemare, Liz & Dick) and Jordan Ladd (Cabin Fever, Death Proof) star in this horror romantic comedy, which tells the following story:
It's the holiday season in Los Angeles and women are being strangled to death in the Westwood area: Maggie (Ladd), a lonely woman goes on a blind date unbeknownst to her that her date is an active and notorious serial killer, The Brentwood Strangler (Yeend)! Is love in the air? Or is Maggie in for the worst (and last) date of her life?
Going on a blind date is always awkward, but going out with the wrong person is just downright weird. While running from authorities, the Strangler, whose real name is Floyd Garrison, finds his way into a house. Once inside, he quickly takes care of the witness who saw him enter, only to discover he's about to go on a blind date. When Floyd opens the door to Maggie, she doesn't even flinch at the sight of the person behind the door not being her blind date. She assumes he must be the guy, so they go out to dinner.
What's interesting about this date, is that Floyd never tries to deceive to Maggie about who he is, yet she still has no idea who she is with, as she invites him into her car, and later into her home. Floyd tells her he is not her dear Richard, and that he did not write the emails sent to her, yet she somehow brushes it all off as his sense of humor. She has trouble putting two and two together until it is too late.
There's a heap of social commentary in Brentwood Strangler. First of all, Maggie and her blind date Richard have never met, ever. All they know is each others emails they've sent, and a few pictures, which clearly mean nothing since she goes out with the wrong guy. In this hyper-technological world we live in, it is much easier to connect with people on a screen. How much do we really know about those people we're talking to? While Maggie is dead set on going out with Richard, she has no idea who she's really with, even after he straight up tells her. She then invites him into her home; a man she's never met before — into her home. Horror films tend to be based off of people making terrible mistakes, and there it is.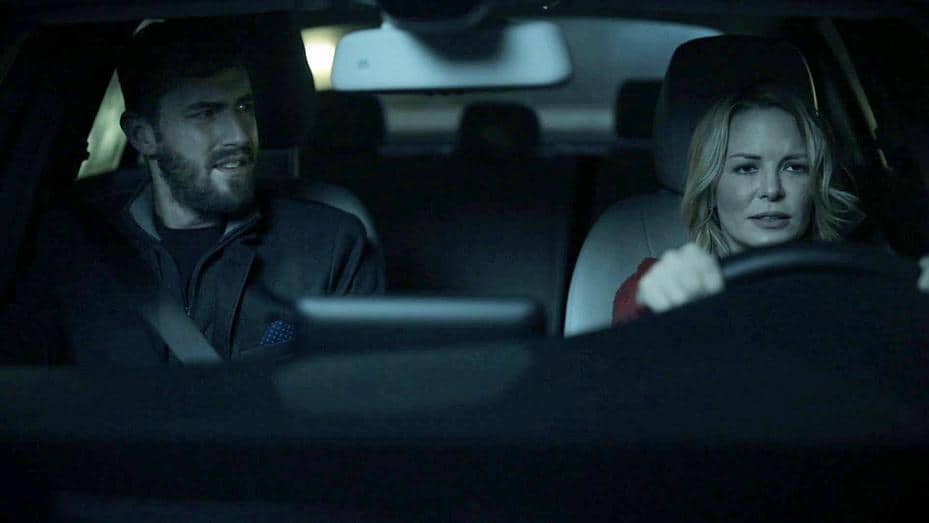 As the two leave for dinner, Maggie decides to drive to the restaurant. Maintaining control is important to serial killers, as they are always supposed to be in control. But Maggie's insistence on driving changes the dichotomy of the two, as Floyd sits back to let Maggie take him wherever they are going. He is supposed to be in control, but why? Is it because he is a serial killer and insists on it? Or is it because society dictates that the man must drive, pay, etc. on the first date. Either way, the film challenges the societal norms and begs the question; who really is in control?
As writer and director John Fitzpatrick put it, "Floyd gets to interview his victim, something he has never gotten to do." As a sociopathic serial killer, you never get to talk to your victims beforehand. This is a great
moment inside the restaurant, as Floyd talks to Maggie about whether or not she could kill a person. This opportunity is not lost on Floyd, as he asks all sorts of questions about what Maggie would do if she were being strangled. Again, she brushes off all hints of his killer tendencies.
Perhaps the strangest thing about this mismatched date with a psychopath is the fact that they actually kind of get along. Their date actually goes fairly well. Well enough, in fact, that they take it back to Maggie's home. To give more away would be to give the whole story away, so we'll stop right there.
On a technical level Brentwood Strangler reaches heights often difficult to find in independent shorts. First and foremost the chemistry between Ladd and Yeend is superb. When a film keeps itself simple in style, the performances and dialogue are the most important. The two leads deliver on such a level in which the audience forgets they are watching two actors. The cinematography provided by Scary Endings cinematographer Nicholas Kaat captures the beauty of modern day Los Angels with ease. This is a short film worthy of the big screen treatment and Fitzpatrick was well aware of where and how the film should screen . The camera does a flawless job of capturing the scenario and telling the story by means of the frame. The entire cast and crew nailed every aspect of this little short that We Are Indie Horror craves a full feature from everyone involved.
Overall, Brentwood Strangler is a phenomenal story with a perfectly paired cast and astonishing camera work which equates to a short film that will sweep in the festival circuit. There will surely be an internet release for Brentwood Strangler, but that's only after the film is done in festivals, but until then, please enjoy their trailer below, and be sure to follow the film on social media.