As the holidays approach, and the gift purchasing timeline shortens with an ominous ticking to the zero-hour, the time has come to beat the procrastination. We are Indie Horror is here to help and guide you through the stress of gift-giving with some art that is worth owning. These gifts, are for anyone, but they will be much appreciated by the macabre and the bleak, those with an insatiable taste for blood, the eerie, and the mysterious. Check out these artists, and their works, and become inspired this holiday season, and you might just find the unique gift for that person that has everything.
---
Seven Hells: The Retro Horror Art of Bill Rude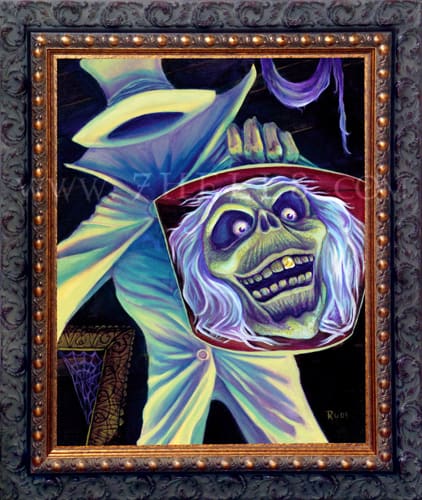 Bill Rude, based in Los Angeles, revels in the art of retro horror, in fact, check out the gallery of posters and you'll get a taste of the very authentic looking movie posters that recall familiar tropes from classic B-movie horror movies (which I personally love and I'm sure you will too). Rude's talents don't end there, you can also browse through his collection of pen and ink drawings. His images are both visceral and ferocious– there's even a sweet Krampus rendition. Other Rude paintings include a portrait of Vampira and a tribute to the Disneyland ride The Haunted Mansion. Check out his work here on this page. As of this writing, this store still has a coming soon banner, but you can contact Bill Rude through his Facebook Page.
---
The Art of Eric O'Neill
Currently his art is featured in Black and White, Volume Two released by Out of Step Books, which you can pre-order here, and makes a good gift in itself. Black and White, Volume Two is a compilation of the best black and white art from various artists featuring an awesome skull cover, reminiscent of a death metal album cover.
However, our focus is Eric O'Neill, who has an eye for the classic monsters of yesteryear, beautiful black and white portraits that include renditions of Count Orlock, the Bride of Frankenstein, Frankenstein's Monster, Creature from the Black Lagoon, and Dracula. A personal favorite is his detailed, spot-on Vincent Price as Dr. Death in Madhouse. In the gallery you will also find a few original concepts which are rich and dense with detail. His drawings look like illustrations right out of nineteenth century books and are both intricate and precise. The store is still listed as "coming soon" on the site, but he can also be contacted via his Facebook Page. You can check out the sweet gallery on Eric O'Neill's page and admire the classic Gothic horror icons O'Neill interprets through his art.
---
Rumplestiltskin Studios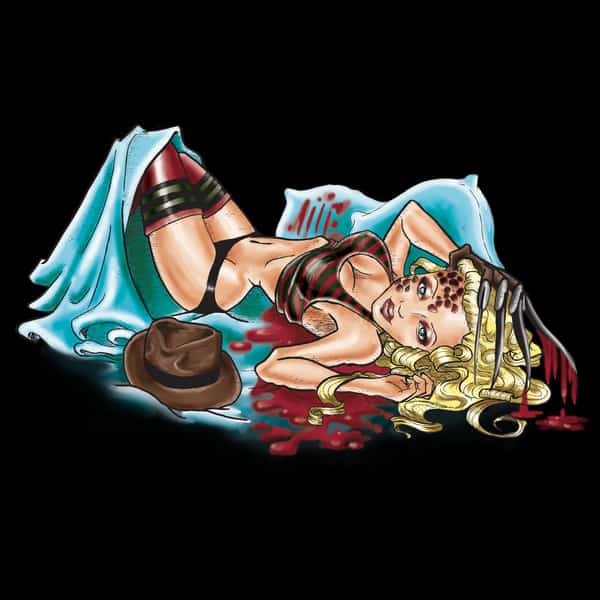 Rumplestiltskin Studios has a variety of colorful amalgam's of pop culture icons. Love Mickey Mouse and Chucky? There's a knife wielding Mickey Mouse as our favorite Good Guy, Chucky. The best part is that you can get the colorful mashup of the two icons as a T-shirt, and a few other mashups, on their NeatoShop page. Behind the innocent icons of American culture, the studio reinterprets the bubbly and colorful characters as our favorite bloody psychopaths– starry-eyed, naive and innocent as they seemingly wield bloody knives. Other Mickey art includes mashups with our favorite American Psycho and Captain Spaulding. There's also a sexy Ms. Krueger tee as well. The shirts run about $20.
---
Herman Inclusus
Based in the UK, Herman Inclusus, takes horror further, to a deep seated religiosity channeling a beautifully realized horror in religion. One of our Featured FearMakers, Herman Inclusus, harbors  a style of art reminiscent of the art found in medieval manuscripts of old, and infuses them with horror themes. The beauty in his art is evident in his hardbound comic book Dismal Incantation a unique synthesis of the comic format done in the same vain as a Middle Ages manuscript. That's just one of the many things you can obtain, which runs about $15 USD. There is also a sweet Santus Nurgrim Rottus Relic ($68), that makes an excellent mantle piece in any home– a gorgeously realized miniature glass dome, circumscribing Santus Nurgrim Rottus as he coddles a skull. Check out Herman Inclusus' gorgeous work.
---
CavityColors
Founder, and artist, Aaron Crawford along with girlfriend Ricki Kelly, are the horror aficionados behind this glorious paradise of artwork from some of the best horror movies out there. Featuring a variety of products ranging from T-shirts, patches, posters, and prints, it is more than obvious the adoration for horror movies. Their prices are decent with their Tees hovering around $25. Posters go for about $30-$40 and are conceptual, original art from movies like Demons, Scanners, and Creepshow. There is simply too much to describe on here, so go ahead and check out CavityColors.
---
We Are Indie Horror is proud to bring you the horror art for the holidays. If you have a request for a holiday horror guide before the inevitable Christmas of next week, send us an email to WeAreIndieHorror@Gmail.com. By supporting indie art, you are helping the world bring originality and creativity into their homes. If you cannot purchase any of these, share with a friend who may be into the dark and the macabre. Happy Holidays from We Are Indie Horror.