Finally after months of trial and tribulations, endless paperwork, never-ending phone calls, and an insurmountable portion of paint, Madison and husband Luke Rhoades will be opening Cross Roads Escape Games. In case this all sounds foreign, please stay tuned as We Are Indie Horror dives into the news.
The real life adventure puzzle interactive horror game opens in Anaheim, California on January 15th 2016! This is great news as the original opening was slated for October. Due to regulations by the city and other unforeseen factors, the games have been put on hold until it was all sorted out. The creative and charming duo took to conventions and special events to show off their latest venture with a mini game that simulates the type of puzzle found at Cross Roads Escape Games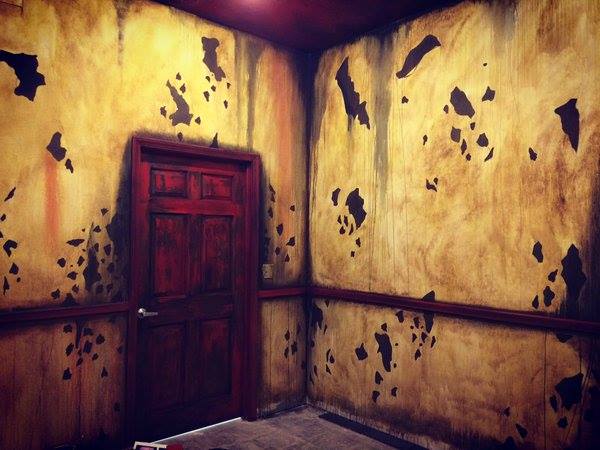 The Hex Room – Does this look familiar? Scroll down for the answer.
The Hex Room is the name of their first game to open within the Cross Roads experience. Listed as one of the largest escape games in California, the aptly sized 666 square foot game takes six guests and throws them into the middle of a horror film. The synopsis is as follows:
A horror-loving madman, desperate to re-create a horror film, kidnaps a geek, a virgin, a jock, a rebel, the prom queen, and the detective. Placing them in separate rooms the captured have 60 minutes to escape by solving puzzles and working together. Who will live? Who Will Die?
Before the game beings each participant must fill out a survey to determine which stereotype they fulfill. After being labeled as a classic troupe from a horror film, the players are divided into separate rooms and given one hour to complete puzzles and help escape the crazy mad man.
Madison Rhoades, the creative director, has successfully completed over 30 escape games in California. Seeking a game beyond her normal experience, Madison and Luke put together their own challenge for fans of interactive horror. In the past the husband and wife team have worked on haunts such as Delusion and Queen Mary's Dark Harbor. As fans and with their experience together, the have created realistic custom built sets that fully immerse the players into the atmosphere and storyline.
"In a normal escape room, you are in a single room. The way in is the way out. After doing so many, I started to see a lot of the same puzzles and same stories. I knew I could make this idea into something unique. Cross Roads Escape Games is the next level of escape rooms, and it won't disappoint." says Madison
Although an escape game, The Hex Room will also play like a maze. Since each player is given a particular stereotype, each person will have a unique experience. Each character will have one important task which helps their team escape. And if you the team makes it out alive there will be special prizes!
Starting January 15th Cross Roads Escape Games (4245 E. La Palma Ave. Anaheim, CA 92807) will be open Tuesdays through Sundays until 11PM. Tickets will be only $32 a person, which in We Are Indie Horror's opinion is a great deal. For more information, to book a game, please check out the website below.
For the wussies in the world who are too scared of scary things, Cross Roads Escape Games will be opening their next game in February with The Fun House. 
Be sure you to stay tuned for We Are Indie Horror for a full review coming in early January 2016.