This week on Tea Time of Terror, Brian and Neil are joined by horror actor Alex Essoe. Alex starred in the 2014 film Starry Eyes as Sara. Her recent works include a lead role in Axelle Carolyn's segment of Tales of Halloween, and the upcoming The Neighbor from Marcus Dunstan
Alex Essoe was born and raised in Gharhan, Saudi Arabia until the age of twelve, when her family moved to Toronto. Her mother would regularly take her to the theater, which began a long relationship with acting. As a child her only dreams were to be either a teacher, or a mermaid. However, when Alex took the lead role in Madea in her school play, her focus shifted. After a brief modeling stint, Alex came out to Los Angeles to pursue a career in acting.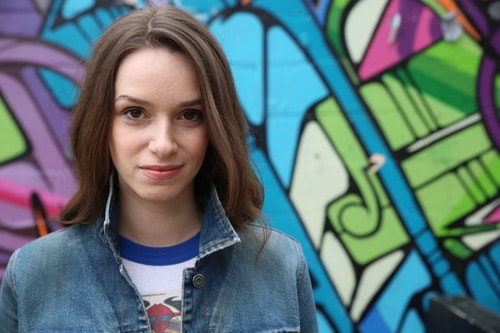 Her performance in Starry Eyes was enough to garner the attention of the horror community. Alex is currently rising through the ranks of the business, adding several projects to her resume every year. Here on Tea Time with Terror, we got to see a different side of Alex. She is funny, smart, inquisitive, and her timing is impeccable. She and Brian managed to hijack the podcast and turn it into a Muppets free for all. It may not be entirely horror, but it definitely is entertaining.
Alex's upcoming film The Neighbor tells the story of a man who discovers the dark truth about his neighbor and the secrets he may be keeping in the cellar. Set in Mississippi, Alex stars alongside Josh Stewart and Bill Engvall to tell this creepy tale. Alex touches on working with these actors, as well as how they managed to shoot the entire film without the public's attention.