The appropriately named Point & Shoot Films (original moniker LBFilms) have been around for nearly a decade and a half. They've kept busy doing exactly what their namesake dictates– point and shooting– crafting all sorts of multimedia projects that includes mock trailers, music videos, and short films.
Keeping in tune with their short-format, filmmakers Bob & Derek Ferreira and Kimball Rowell have created The Carnage Collection a bloody and demented horror/comedy anthology comprised of vignettes full of blood, sex, and depravity. This also happens to be their first feature film!
Yesterday I wrote up a lengthy article about ultra-low budget filmmaking, inspired by the indie zombie film Dead Kansas. If you haven't read it, you can do so here. The basic premise of that article was an "Indie Manifesto"– found in the aforementioned film, one that exuded a tenacity to create despite limitations or hindrances– proclaiming that reluctant filmmakers and artists should simply get out there and create, no matter what.
Well, if you read the article and needed more proof, The Carnage Collection is just that film to continue my fiery pontification on the subject of "just do it." Point & Shoot Films, despite being around for 15 years, are just now releasing their much impassioned first feature length project. And if you're still reluctant about going out there and creating a feature length film, consider this: despite being released as features both Dead Kansas and The Carnage Collection are comprised of small bits to make a whole, ie. short films to create a feature length.
If you can take away anything from either Dead Kansas or The Carnage Collection, it is that the short format is a great home for horror. This is a place where a filmmaker can try out ideas in a shorter and more cohesive format as a means of answering pertinent questions like, Is it perfect as a short? Or could it benefit from a lengthier format, ie. a feature?  Furthermore, shorts are perfect for portfolio building and showing off your skills through online platforms (such as YouTube).
Horror, for some reason, works great in a shorter format. I feel that the horror short is more thought provoking, because it ends so abruptly, usually with something revelatory or shocking (or even comical). Some of the best works of Edgar Allan Poe are poems (Annabel Lee) or short stories (The Tell-Tale Heart). Horror anthologies on both television and in film, are effective as short slices of terror. I'm thinking of television programs like Tales of the Crypt and even as far back as The Twilight Zone and The Outer Limits— short one-episode stories, usually ending with a twist of sorts– and movies like Body Bags
The Carnage Collection tells various stories– nine I believe I counted– in the same vain as Tales from the Crypt and Creepshow, with each story bloodier and more depraved than the last. If you're afraid of clowns, a really psychotic and frightening one makes an appearance; as does a sexual deviant that does the unthinkable with a piece of technology; there's a plushie obsessed woman, whose mind begins to slip; and if you love killer Santas there is one waiting for you in the garage, ready to slash you up. In all, there is something for everyone in this anthology. The film is bookended with a cable television salesman, selling an unsuspecting twentysomething a receiver kit, and the stories we view– presumably– is the character switching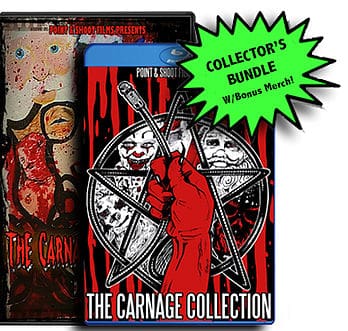 through channels, watching short clips of murder, mayhem, the terrifying, and the downright abhorrent.  The film definitely makes on its promise of carnage, featuring a series of cringe inducing and gory deaths, sure to satisfy and repulse avid horror fans.
This is the first feature film from Point & Shoot Films and it released at the end of 2015. Currently you can purchase The Carnage Collection in either DVD or Bluray, (both formats sporting different covers) or you can buy a bundled package that includes both DVD and Bluray, for the collectors out there. Personally, I must admit, I have a strong desire for the Bluray cover, which features a coaxial pentagram– it doesn't get any cooler than that!