The news of a second season of Fun Size Horror had We Are Indie Horror reminiscing in the olden days of March 2015. We decided to re-connect with a friend from one of our first 10 Fear Makers and Fun Size Horror season 1 producer for this week's Community Check-in.
Ace Marrero is an american TV actor who has had roles in popular shows such as Law & Order: LA2 Broke Girls, and Scorpion. But we are not here to talk American Television programming, let's talk Horror. Ace runs a horror production company named Swim With Fish Productions who released a film called Roadside last April. Ace has been a busy person since the release of Roadside, which he produced and starred in.
Acting in countless roles in movies and TV such as shows like Criminal Minds and Ride Along 2 As for horror, in June Ace worked in a Mike Mendez (Tales of Halloween) film with Henry Rollins called The Last Heist. The film also features Fear Maker Camilla Jackson
Ace is a man of many talents. Although a horror lover, producer, and actor; he feels sometimes it is important to go back to your roots. For Ace those roots stem all the way to New York City where he is actually a musical theater trained actor. Back in June, Ace traveled East to star in a limited off-broadway run of Women Are Crazy, Because Men Are Assholes
July brought Ace back to the West coast where he visited San Diego Comic Con for the first time. Oh no it was not as a fan, it was as a performer for his sensational Once Upon A Time Rock Opera where he performs as Colin O'Donoghue's Captain Hook. If you ask us, he is perfect for the part. His wife, Erin Stegeman, who plays alongside Ace as Jennifer Morrison's Emma Swan also created and successfully crowd funded the show. They have begun their official tour of the film with a premiere at the Egyptian Theatre on September 25th to a sell out crowd. Don't worry if you missed it because there will be an encore screening scheduled for October 21st at the Los Angeles Downtown Independent Theater. Then in December they will take Once Upon A Time Rock Opera to St. Louis. He has informed We Are Indie Horror that each stop on their road tour will include a party before hand.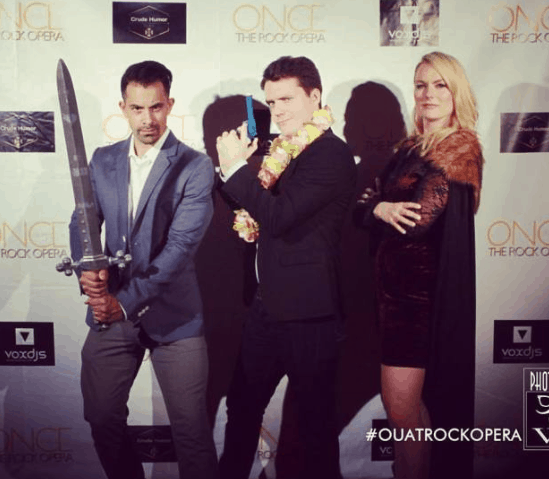 Back to Fun Size Horror. Last year Ace showed the world his short film Happy Birthday (which you can check out below). He produced while his wife directed and wrote the short. This year that same short film has been accepted into the Telluride Horror Show in Colorado in mid October. Happy Birthday will also represent Fun Size Horror in the V1 Anthology.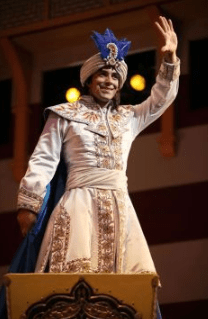 And that is not it ladies and gentlemen! When we said Ace Marrero is a busy man, we were not lying. On top of all of this craziness he also will be returning to the stage to help close out Aladdin: A Musical Spectacular at Disney's California Adventure. 4 years ago saw the end of Ace's 3 year commitment as Aladdin and now after 10 years the show will be closing but with Ace as the lead.
Congratulations on your continued success Ace. Everyone at We Are Indie Horror supports you and is excited to follow the rest of your fruitful career.