Part of the 10th edition of PaleyFest Fall TV Previews' at the Paley Center for Media in Beverly Hills, Ash vs. Evil Dead made its gruesome and bloody presence known in an event that featured a red carpet for the cast, a special screening of episode one of the much anticipated season two, and a panel immediately following the screening.
The panel, moderated by Nerdist's managing editor Alicia Lutes, was just what you'd expect from the legend Bruce Campbell and cast. Accompanying Mr. Campbell for the panel, where co-stars Ray Santiago and DanaDeLorenzo, who both matched the titular Ash Williams with equal energy and charisma; TV legend, and The Six-Million Dollar Man himself, Lee Majors (who will be playing the role of Ash's father, Brock Williams) joined the rag tag group of demon hunters. Rounding up the panel where Ted Raimi (playing longtime friend Chet Kaminski) and Michelle Hurd (who will play Ash's lost love Linda B.). The panel segment was electrifying, as the cast member panel felt like a family reunion more than anything, in a hilarious 45-minute Q&A where the cast shared on set tales from New Zealand, how to remove fake blood, and quips from Bruce's Bulgarian stunt double (who Bruce does a hilarious impersonation of).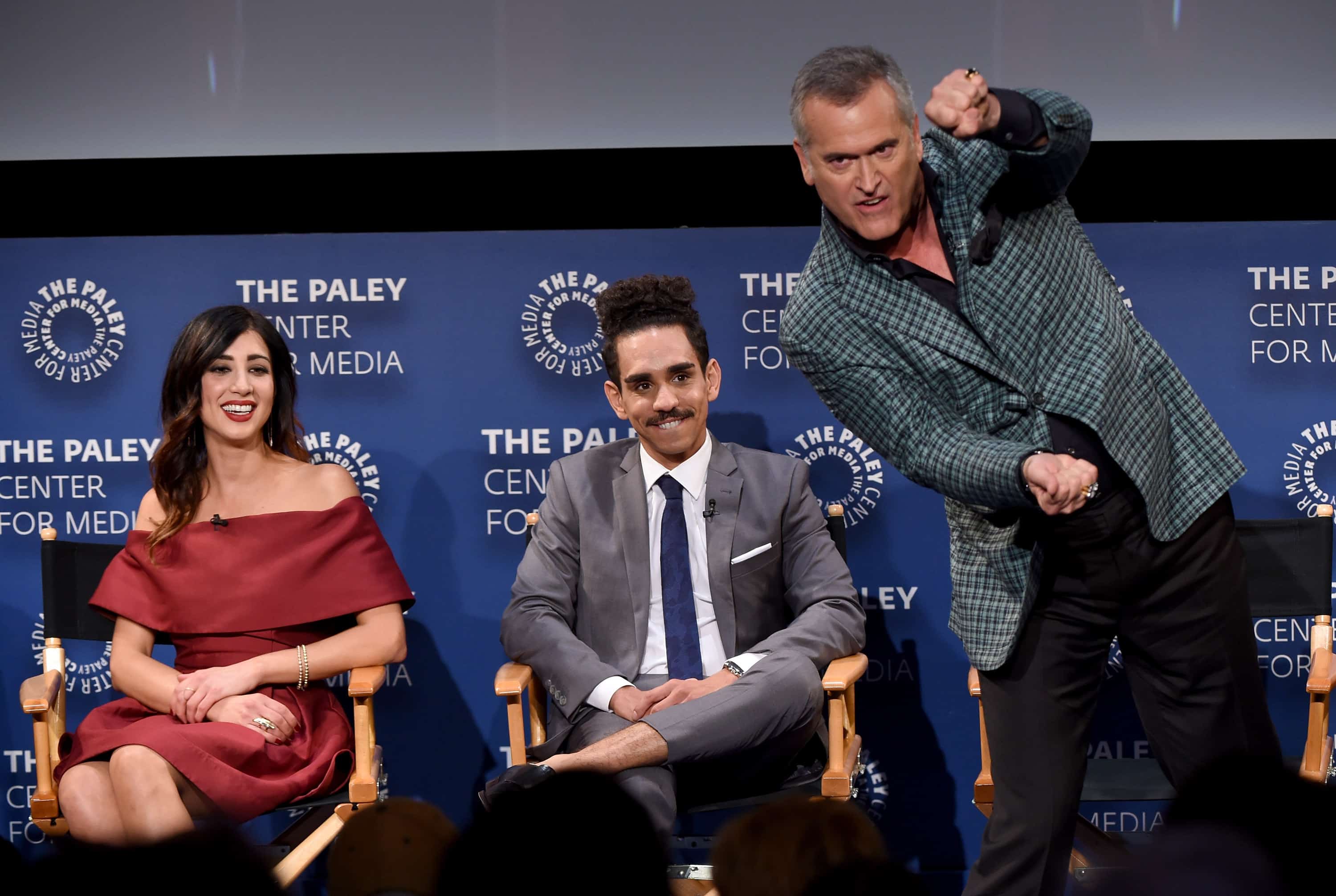 The fantastic preview of season two's first episode (titled "Home") looks to top the blood, gore, and comedy from an already phenomenal season one. There were plenty of laughs at the screening, and it always amazes me how fine tuned Bruce Campbell is when it comes to his slapstick comedy, which works on every gag. Season two premieres on Starz on October 2nd. You can catch up on season one through the Starz app, or through your cable provider, or you can purchase the DVD or Bluray in retailers everywhere.
Before the screening and panel I had a chance to interview the three lead cast members of Ash vs. Evil Dead Bruce Campbell, Dana DeLorenzo, and Ray Santiago. Bruce talked about why The Evil Dead works better as a television show; Dana tells what its like working with Bruce, while Ray shares his thoughts on what it means to be a Latino actor. Check out what they had to say below.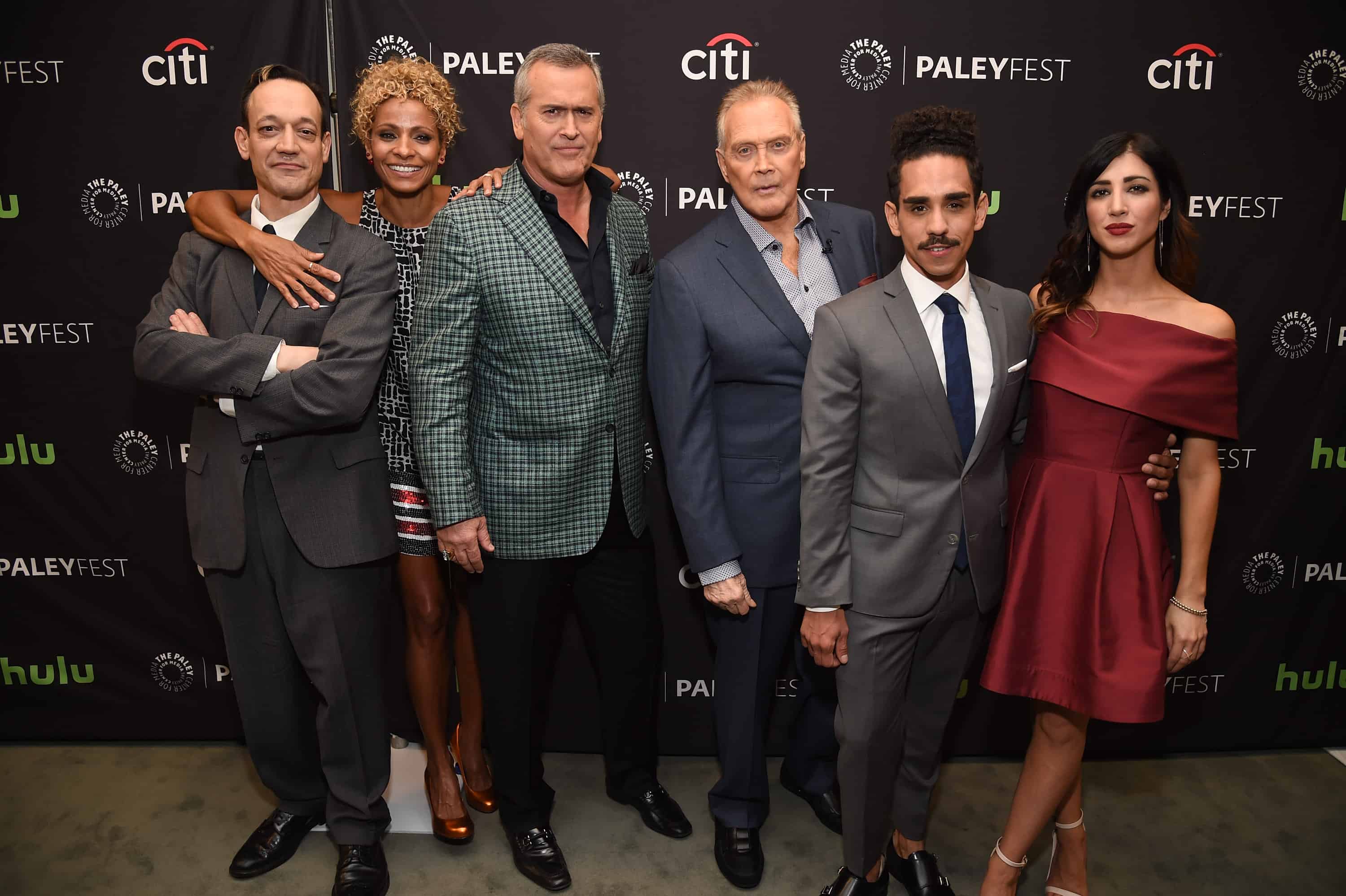 ---
WAIH:It's so crazy how The Evil Dead began as an independent movie with sequels, and how much it has grown now into a TV show in its second season. How do you feel about that?
Bruce Campbell ("Ash Williams"): Good. You know, because the movies were made so sporadically it wasn't really serving the fans. We made them every decade. We made one in the seventies, one in the eighties, one in the nineties. They've been very starved for twenty some odd years and, thankfully, they came back. They love the show. That was the most important thing, we just didn't want to piss the fans off. We waited so long, we gave them a remake, that was okay, but it's not good enough! It's not enough! They wanted the real deal. They accepted it because we've given it enough of the original elements.
WAIH: Do you think it works better as a TV show?
BC: Yeah. Yeah, I do. Now you can go on a journey. Ash is on a James Campbell, the author of the hero's journey theory, journey. Its a hero's journey and you can do it much better on television. I tell fans if we did a movie and it came out and bombed, you'd never have this ever again. With the TV show, man, you have five hours a year of new stuff. It'll add up. Five years, that's 50 new hours of unrestricted content. That's the other thing too, Starz has no restrictions, like none. The first three Evil Dead movies were unrated– Army of Darkness is the only one with an actual rating. Fans have gotten used to unrestricted content, if this was on cable or broadcast it would suck. It's a good fit. The elements just fit.
---
WAIH: What is it like working on, arguably, one of the best shows on television?
Dana DeLorenzo ("Kelly Maxwell"): First of all, I love you for saying that, I'll get Bruce to give you $20, because that's what he does [laughs]. It's incredible and I pinch myself constantly. There's not a day that goes by that I don't realize how lucky and grateful I am and honestly I am having the time of my life. This is a dream job that I never knew existed or that I would ever be part of. I'm just having the time of my life! Thank you fans for making the show a reality and thank you for accepting two new sidekicks with Kelly and Pablo.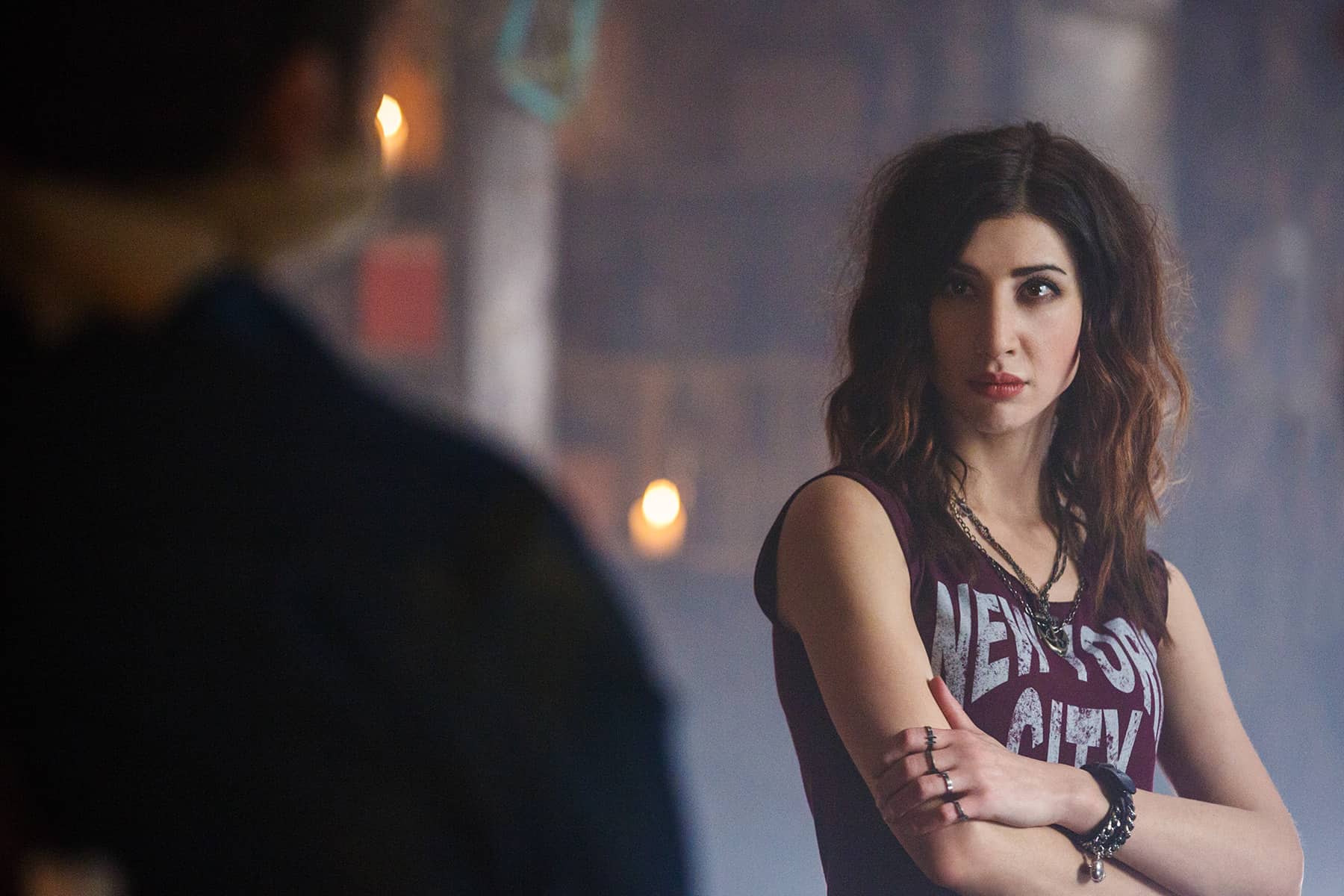 WAIH: It sounds like a blast, what's it like working with Bruce Campbell?
DD: You know what? This is what I say: It's exactly as you hoped it would be to work with Bruce Campbell only better, somehow! It exceeds all expectations. He really is the best captain of our crazy bloody ship, taking us under his chainsaw wing. I have to say, he's insanely intelligent. You have to be very intelligent to play a character as dumb as Ash. Ash is pretty dumb on some emotional, decision making level sometimes. In real life, Bruce is incredibly intelligent and is always yelling at us with stuff that he's read, he's like a human encyclopedia. But he's also so entertaining and so funny, especially in season two when he has his long time friend Ted Raimi playing his long time friend Chet. It was like a show within a show. I feel like they need to have their own variety hour. It's just incredible, especially people like Sam [Raimi] and Lucy [Lawless], everyone, it's just incredible.
---
WAIH: What's it like as a Latino actor, especially with National Hispanic Heritage Month upon us, and having such a big part on a TV show?
Ray Santiago ("Pablo Simon Bolivar"): It's really awesome. When I was a kid I used to want to be a superhero. I used to pretend to be a superhero. I wanted to chase the monster and save the girl and now I actually get the opportunity to do that. I'm one step closer to being the superhero that I wanted to be as a kid. You know, we've never had a Latino sidekick in the  horror genre. I'm the first male to do that. Charisma Carpenter was sort of like that on that David Boreanaz show [she played Cordelia Chase on Buffy the Vampire Slayer and Angel], we've never had a guy; not one from the South Bronx who's Puerto Rican.
I've made a living out of playing gangbangers and drug dealers on television and now I'm making a living off of playing a loyal sidekick who might save the world. I feel like times are changing and I'm super happy that I get to do that because, I'm terrified of dying. But if I leave my mark on the world and do something that changes our legacy as a culture, then I feel like I've done my job. When I die I will be remembered for that, and if Pablo dies he will be remembered as the guy who tried to save the world, and same goes for me, whose changed it. I mean we have to start somewhere I used to watch John Leguizamo as a kid and say "I can't wait to work with him" and now I have worked with him. I think it starts with people believing in themselves and if you make the choice to believe in yourself everyday the world will speak to you. That's the only way that you're going to survive is if you believe in yourself. I believe in Latino's having better roles on television and on film.
---
The week long PaleyFest Fall TV Previews, which ran from September 8 to September 15, is an annual event that showcases some of the hottest upcoming fall TV shows. To learn more about the Paley Center for Media visit their official site.
Catch the premiere of Ash vs. Evil Dead on Starz on October 2nd