It is no secret that We Are Indie Horror are fans and way too excited to see the upcoming Halloween based anthology Tales Of Halloween, but we cannot let you miss this big piece of news coming out of their camp. The film is compiled of 10 shorts by 11 directors who call themselves The October Society. The elite group of filmmakers are compiled of  Axelle Carolyn, Paul Solet, Adan Gierasch, John Skipp, Andrew Kasch, Neil Marshall, Darren Lynn Bousman, Lucky McKee, Mike Mendez, Dave Parker, and Ryan Schifrin.
Although Tales Of Halloween have launched a new website and a brand new theatrical poster to go with it, we have bigger news from the film. If you look below, there is a poster. This is not the aforementioned new theatrical poster. THIS poster is a limited edition print created by none other than the legendary Drew Struzan. You may not know his name, but you do know his work.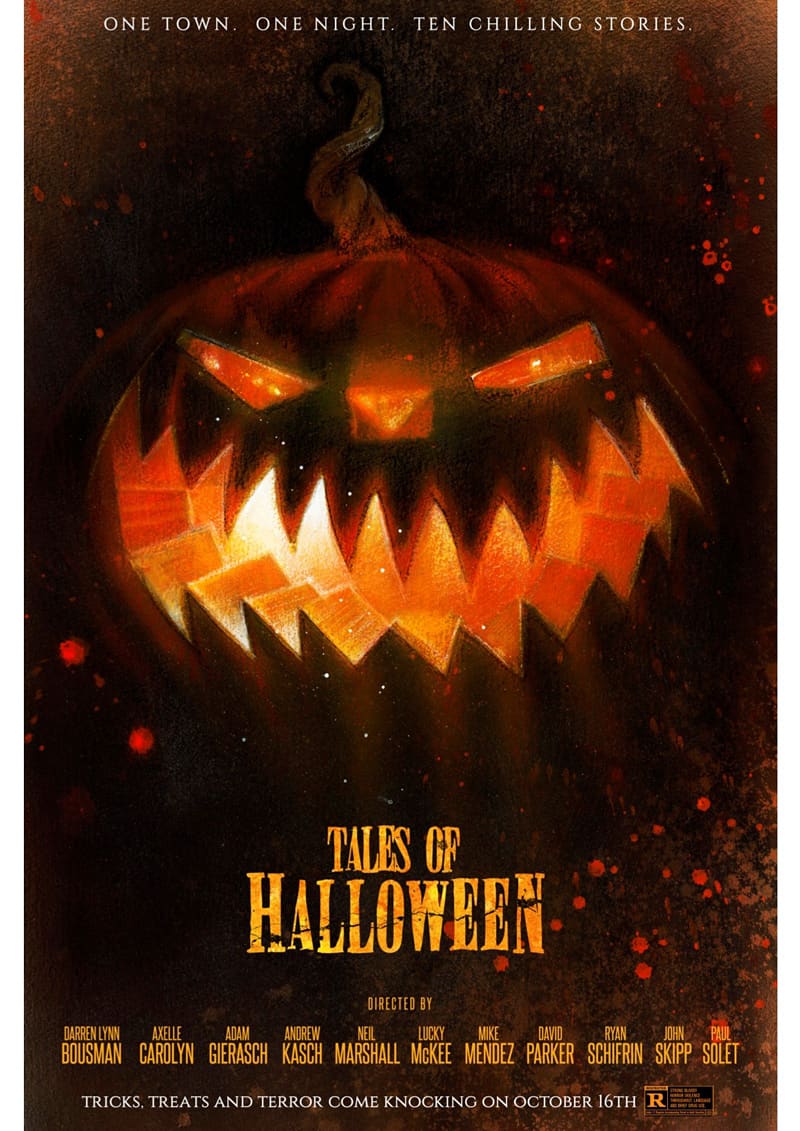 Drew Struzan is responsible for some of the most iconic poster art to date. His works include Star Wars, Indiana Jones, and Harry Potter just to name a few. Director Neil Marshall explains how they can pull a legend out of retirement to do such an incredible piece.
"To film geeks and movie poster collectors such as myself, Drew Struzan represents something that often seems to have been lost in recent years; the ART of movie poster design. The ability of someone to capture the essence of a movie in a single painted image and create a genuine work of art you'd be proud to hang on your wall.  So it's an unbelievable privilege for our little film to be blessed by one of Drew's beautiful paintings. It was incredible enough to have Drew play his first ever cameo (along with his son Christian) in my segment of Tales of Halloween. The poster itself came about when Axelle (Carolyn, my wife and also creator, producer and fellow director of the movie) plucked up the courage to ask him over dinner one night. I suspect though, since Drew is such a thoughtful and generous person, that he might have been upset if we hadn't asked him. Either way, we're honoured to have Drew's incredible artwork grace our movie, and I for one will be making space on my wall for this beautiful poster." – Neil Marshall
If you live in the Los Angeles area, then you are lucky enough to be able to not only get the poster, but have it signed by the legend himself along some of the directors, cast, crew, and composers from Tales Of Halloween. On Saturday October 10th at 6PM they will all be at Dark Delicacies in Burbank CA. When you stop in be sure to say hi to friend of We Are Indie Horror, Del and let him know we sent you. For more information head on over to Dark Delicacies website.
Tales of Halloween will be released theatrically and on VOD on October 16. Be sure to check it out as soon as possible.