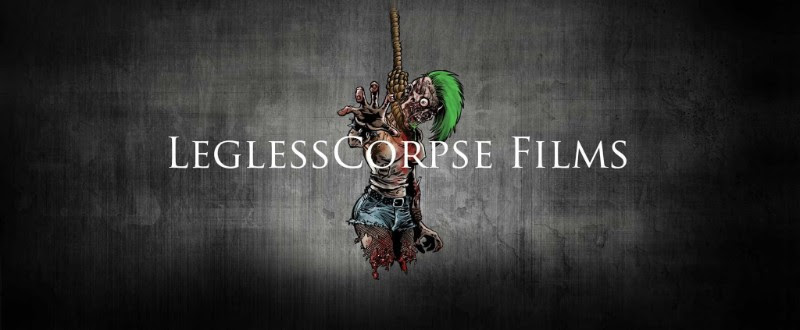 LeglessCorpse Films brings us the horror/thriller Nailed Down, a film that features no shortage of religious allusions, proverbs, and iconography. Writer and director Harley David Morris explores holy ground– seldom navigated waters in the horror genre– to tell the story of revenge steeped in Christian morality. Apart from the obvious demonic and exorcism horror films religious allusions remain largely absent in horror, but one that is ripe for exploitation. Nonetheless, Morris explores religion and the brutal nature of man with deliberate pacing and suspense.
Harley David Morris scatters religious passages throughout his film's minimalist plot, a bit like chapter breaks, alluding to a thematic interlude in the films narrative. Kenn Parks plays Adam Nash a man who appears as ordinary as any other man– pious even. On his way home one night, unbeknownst to Adam, an intruder lurks in his home and takes him hostage in his own abode. Bummer. The intruder pushes Adam Nash to the lengths of madness as he sadistically tortures Adam with nails and screws– amongst verbal tortures and other methods. As time passes and Detective Bennett (Warren Ray) investigates the missing Adam Nash– amid fears from friends and co-workers– secrets are revealed, as is the identity of Nash's captor and the reasoning behind his torture.
The film methodically reveals the sadistic kidnapper's modus operandi, and when the twist of the story arrives it turns everything on its ear. As Adam realizes who the sadistic perpetrator is, everything becomes lucid to Adam and hence the audience. Short in its running time– only 67 minutes– Nailed Down poses thought provoking questions infused with religious, as well as moral, implications. Once the viewer realizes what's going on the film begins to make sense and yet still possesses enough intrigue in its final moments to surprise in the film's denouement; ending in very unsuspecting form.
The film was recently acquired by LeglessCorpse Films and is currently available in both DVD and Bluray formats which you can acquire through both Amazon or their official website. Furthermore, LeglessCorpse Films has recently announced the launch of their first annual film festival: LeglessCorpse Film Festival. If you're in Alabama– specifically Somerville, Alabama at the Somerville Playhouse– between the dates of April 23 and 24, make sure to check them out. You can read more details from our recent coverage on the event