CONTEST UPDATE:
Madison has graced us with 2 FREE Tickets for the game when it opens later this month. Find out how to enter at the bottom of this article!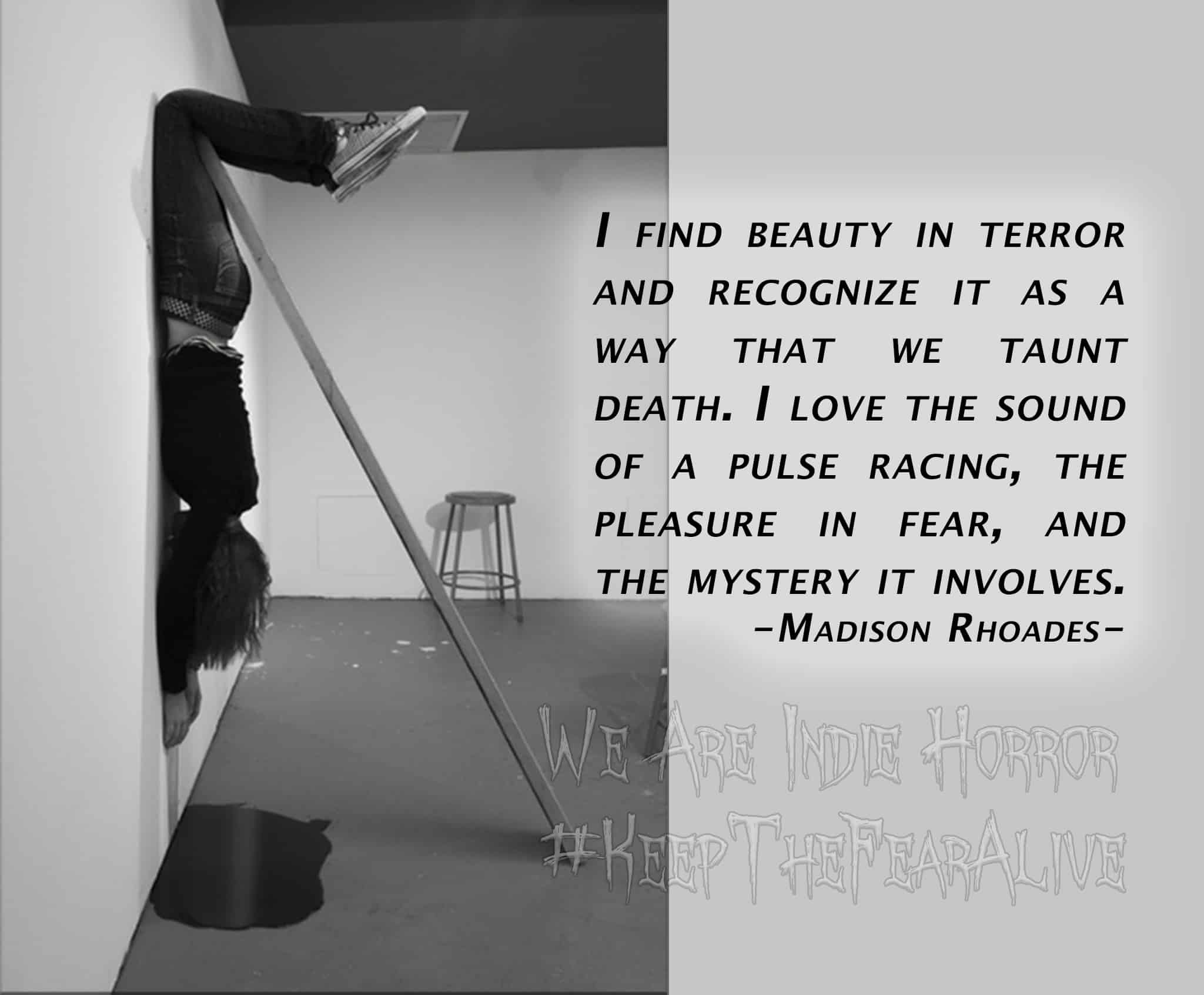 When horror fans think about Fear Makers their minds will generally travel towards Film, when in reality the Horror genre is beyond just the silver tape. Here at We Are Indie Horror we strive to connect ALL horror artists across the entire world. And with Halloween right around the corner, it is a perfect time to start exploring a new technique of instilling fear into a mass group of people; interactive horror. Featured Fear Maker of the week, Madison Rhoades is an expert in interactive horror and is currently working on building her life's dream, the Cross Roads Escape Games. Madison strives to put horror fanatics right in the middle of the movie, creating a more visceral reaction than just sitting in the dark staring at a screen.
Madison's love for horror began when her father, an avid horror fan himself, would watch scary movies after putting Madison to bed. Like any true horror fan, she would sneak out and watch from under the bed. Films like The Sixth Sense and Tim Burton's Sleepy Hollow were here favorite films as a kid and to this day they continue to inspire. Horror played a key-role in her decision of area to study in school so in 2013 she graduated from USC with a BA in Fine Arts and Theater, with a thesis project focusing on women in horror. Madison now works her "dream job" as she likes to put it, with Queen Mary's Dark Harbor in Long Beach, California as their Lead Scenic Painter.
The Horror Hound ran into Madison at this past weekend's HorrorCon International in Los Angeles, California. He definitely had a few questions for her. She also gives Hound some exclusive news only told at HorrorCon. Check out the interview below as Madison explains more about her upcoming project Cross Roads Escape Games.
The idea for Cross Roads Escape Games began to take form after attending her first escape game. With her husband, Luke Rhoades, the conversation post escape game would always branch towards the changes they would have made if it was their own design. As an avid lover of escape games, Madison and her husband would continue to travel all around to game after game until they finally blended together of monotony which inevitably pushed her to make her own game exactly how she wants to.
Cross Roads will be opening their first game which comes at no surprise as a horror themed game called Hex Room. The story is simple, a madman wants to recreate a horror film. This psychopath gathers you and five of your friends and gives you an hour to fight for your lives. Inside each room, clues are presented to help find the keys, but there's a catch; the key you find in your room may not be your door's key. You must all work together to escape your fate and survive. Interestingly enough, the manic has chosen each person carefully as they represent a character archetype from classic slasher films. He captures the geek, virgin, jock, rebel, prom queen, and detective. Before you step into the room, you will be given a short quiz to see what character you represent, then you will receive costumes and props that correspond. The costumes may or may not have clues on them as well. Over the weekend at HorrorCon International in Los Angeles, Madison announced a new twist to her game. Each character will receive their own additional puzzle to complete during the hour long game. If you can figure out the puzzles and "survive", you receive a survivor medal and live to the end of the story. Can you escape the Hex Room?
"This game is going to be really beautiful. And by beautiful, I mean horribly gross, disturbing, and real." –Madison Rhoades
Madison and her company are currently building their hex room game, set to open October 15 in Anaheim, California. Cross Roads Escape Games in the future is looking to add more games. The next game Madison Rhoades is working on is called Dead End. In this experience, groups of about 8 enter a large maze from different points and try to escape. Sounds easy? Well it's not. Throughout the maze, there are many clues; some helpful and some presented as red herrings. Your job will be to figure out which clues to follow in order to get out.
Madison sets an example as to how to surpass the screen and utilize all senses to create pure terror. "I find beauty in terror and recognize it as a way that we taunt death. I love the sound of a pulse racing, the pleasure in fear, and the mystery it involves." She has been working tirelessly to give us an incredible escape room adventure and her hard work and dedication are all about to pay off when her attraction opens on the 15th of October.
At her booth at HorrorCon, Madison had a small example of what to expect. We Are Indie Horror was able to use the clues and solve the puzzle to find the keys to a box that gave us a $10 off coupon for Cross Roads Escape Games. That $10 belongs to you! (UPDATE: MADISON HAS RAISED THE PRIZE TO 2 FREE TICKETS) How can you get it you ask?  You send us your best short story with the simple prompt of six people trying to escape something The best one will receive this coupon! The story does not have to be long, it can be just one sentence. As long as it involves six people escaping. We hope Madison's example of creativity and dedication will inspire you all to write great stories!