It takes a lot of hard work to make a film, there is no doubt about it. As a struggling young filmmaker, the hardest part is getting people to believe in you enough to fund your project. In a world of reboots and sequels, it seems as though investors struggle with the ability to trust new projects. Reboots make more money, regardless of whether or not they turn out good, because people already know the characters, and will watch it regardless. So in this modern film industry, it seems almost impossible to get an original script made, let alone when it is being made by a fresh new filmmaker. That isn't enough to stop this week's Featured FearMaker, Jesse Heisel, whose films have set records, and won innumerable awards.
Born, raised, and currently living in Iowa, Jesse has always been a horror fan, sifting through his parents VHS tapes always looking for a new horror movie to take in. His passion for filmmaking didn't surface until around the age of 13, when he found a connection with the hockey mask wearing, teenage slashing Jason Vorhees, particularly the Kane Hodder films. "Horror has always been the genre that spoke to me the most. It's always been the genre where I feel as a filmmaker I can voice out my messages in the correct way."
Jesse Heisel spent his year in high school writing and directing several short films, a hobby that would follow him into college, and eventually turn into a full blown career, Through 2010 – 11, Heisel was the President of the South Eastern Community College's Film Club. With his leadership, organization, and teamwork persona; the club produced/finished more short films than any other President in the history of the organization. Due to this achievement, Heisel was the first person in SECC's Film Club to win the President's Award at the SECC Organization Ceremony that same year. In 2011, Heisel transferred to The University of Iowa to Major in Cinema.
While at the University, Jesse Heisel wrote, directed and produced nearly 30 short films. Heisel's biggest recognition, while at UI, was his student run television show, Dark Wings. Dark Wings was an anthology horror show Heisel created for the student run organization, Student Video Productions, and could be seen across the state of Iowa on the University's television station, UITV. Dark Wings quickly became the most viewed/ recognized show SVP had in years. For this, Heisel won the 2012-13 Producer of the Year Award at the Windfall's Award Show.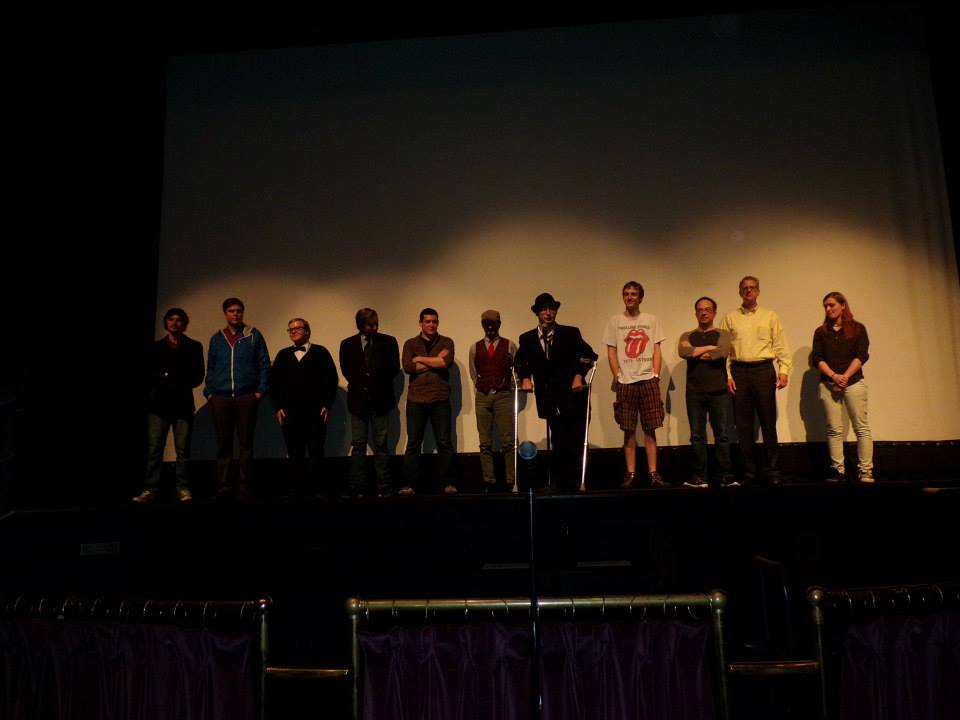 Jesse (center) with the cast and crew of Mello
During his Senior Year at UI, Jesse began writing his first feature length movie script, Mello. While still earning his degree, Heisel not only finished writing the script, but also funded a small budget to make the film. During the Summer of 2013, Heisel directed Mello. The movie premiered in Iowa City, IA at The Englert Theatre where it received a great response. In 2015, Heisel began to embark in the world of film festivals. Not only did he win an award in every film festival he was accepted into that year, but he also made history. At the 2015 Bare Bones International Music and Film Festival, Heisel made two historic moments happen. First, he was the first "Student" filmmaker to ever be nominated for the festival's top award, The Indie Auteur of the Year Award. His second historic moments was he was the first "Student" filmmaker to ever win The Indie Auteur of the Year Award.
Today Jesse Heisel is working on getting his second feature film up off the ground. It is a genre flipping slasher, in which the women get to do all the killing. The film is called The Queens of Evil, and is currently looking for funding. The Queens of Evil tells the story of five women who run a club in order to draw in men and ultimately kill off those that showcase inappropriate misogynistic behavior towards women. Each of the women have a history of abuse, which acts as their motivation for ridding of these men. The film contradicts the traditional way women are objectified in horror films while tackling the discussion of abuse and its serious impact on those caught in the middle of an abusive relationship.