With Halloween in full swing, we've been covering some truly excellent haunts, escape rooms, and events. With so many different happenings in So Cal, it's really easy to blow all your hard earned cash on these events, but what if you don't have the bank roll to support your love of getting the sh*t scared out of you? Have no fear, we've compiled a list of haunts and escape games that are designed for Halloween and each cost under $40 to attend, ensuring your ability to celebrate the best holiday of the year and pay your rent.
---
Queen Mary's Dark Harbor
Every year, the infamously haunted cruise ship Queen Mary opens its doors to an array of guests looking to be scared. With six unique haunts (three of which are on the actual ship) and a 4D theater show, this haunt is an excellent way to spend an evening. Along with mazes, they have a freak show which features magicians, dancers, and freak performers guaranteed to make you quake with wonder as they perform super human stunts. Tickets start at just $24 and go up to $39.
---
The 17th Door
Located at The Market Place in Tustin, California, The 17th Door is an intense and unique haunt guaranteed to terrorize and thrill all your senses. Walk through Gluttire University as you follow Paula's Sophomore year. The haunt works on a timed locked door system, which leaves you locked in each room between one and three minutes. This year includes a mini escape room, escaping before the 2.5 minutes earns the team a free keychain. This haunt is not intended for the emotionally week as it deals with incredibly intense situations and themes. Tickets start at just $22.
---
Motel 6 Feet Under
Located just across the freeway from Disneyland in Anaheim, Motel 6 Feet Under is an exquisite haunt filled to the brim with terrifying experiences and some class act scare actors. Called "the gem of the season" last year by My Haunt Life, Motel 6 Feet Under is entering their second year, guaranteed to have more thrills and give more chills! Tickets are just $15, with $25 for the VIP Front of the Line pass.
---
Cross Roads Escape Games – Hex Room
Also located in Anaheim just down the street from Disneyland, this unique escape game puts you and five of your friends right in the middle of a serial killers diabolic plans. Playing as one of six common horror tropes, each person is locked in their own room and must solve puzzles to escape their individual rooms before attempting to escape the killer and surviving. This game forces each player to be active and solving puzzles, so if you like to hang back and watch, this game is not for you. Tickets are just $35 for this hour long experience, and they also have a second, non-horror themed game called the Fun House for those who don't like t be scared, tickets for that game are only $32.
---
Boney Island
While not an actual haunt, Boney Island has become a staple in the surprisingly sleepy part of Studio City, California. Built on the front lawn of a Simpsons producer, Boney Island is a walk through themed experience complete with a singing garden, water fountain show, and several great gags and tricks. This is a free event, and is usually open the week before Halloween.
---
Trap House
Located at The Think Tank Gallery, Trap House is part art show, part lounge, and part escape game. Upon purchasing your ticket, you will get emails and text from Crystal inviting you to audition for a GG Allen type rockstar who has disappeared a while back. Once in the game, you can interact with guests outside via an intercom who can choose to help you solve puzzles if they choose. Filled with awesome art and creative puzzles, this interactive experience is worth the trek out to Downtown Los Angeles. Entry to the art gallery is free, you just need to RSVP HERE. Tickets to the escape room range from $25-$35.
---
Rotten Apple 907
This free home haunt has become a staple in the San Fernando Valley for 26 years, scaring thousands of visitors and taking donations for local charities. Changing their theme every year, the only constant is their attention to detail and exquisite set decoration. Rotten Apple 907 is open on extremely select dates, but entry is always free. We recommend arriving early to ensure your entry into the haunt.
---
Reign of Terror
What do you do with an abandoned mall space? Turn it into a massive haunted house, of course. Reign of Terror in Thousand Oaks is a gargantuan haunt, boasting 95 rooms and 8 attractions filled with animatronics, scare actors, and themes ranging from haunted swamps to carnivals and everything in between. There is no shortage of scares in this maze, as it is constantly worked on throughout the year while only being open roughly 20 nights. A favorite of the haunt community, tickets to Reign of Terror start at $19 for GA and $30 for Front of the Line passes.
---
Shine on Collective
This immersive theater company gives its patrons a one of a kind experience. Their productions vary throughout the year, but they all take guests alone through interestingly dark stories that begin well before you step into the actual event. Taking place in public, on street corners and cafe's, Shine On Collective blurs the line of reality and fantasy by sending guests through the real world on quests to find actors and experiences hiding in plain site. Their latest show, Devoted, gives patrons the feeling of being stalked as Cara Darling devotes her love to them via Facebook messages, emails, and texts. The show is almost sold out (literally two tickets left at the time of writing this article) and run $37. They do have shows year round, so if you miss this one, fear not, there will soon be another you can jump in on.
---
Zombie Joe's URBAN DEATH Tour of Terror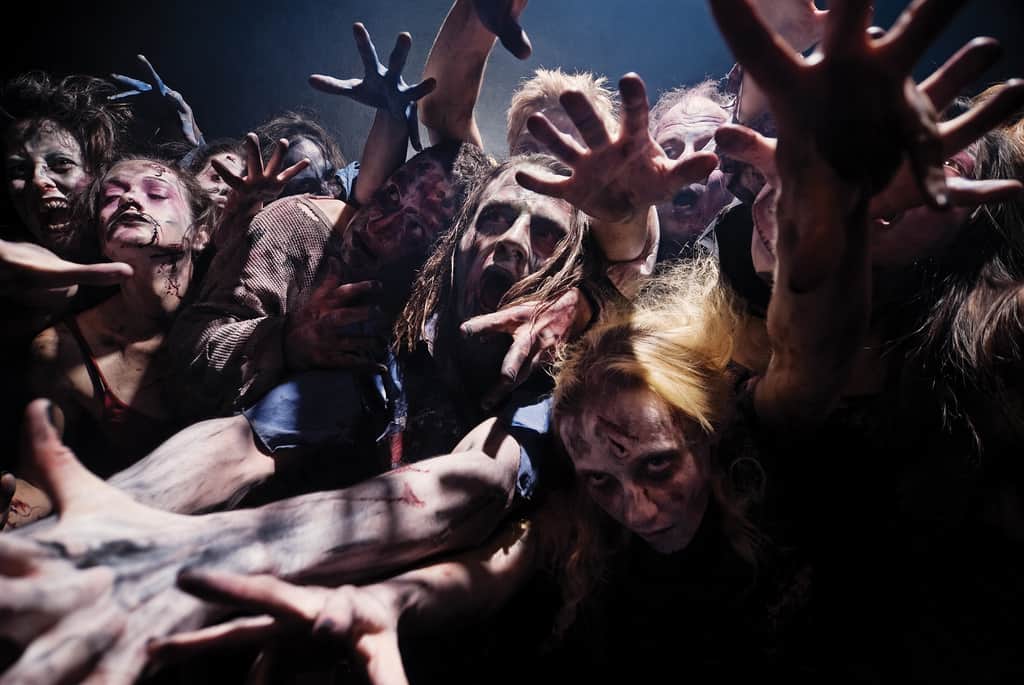 Located just a couple blocks south of the NoHo Arts District, Zombie Joe's has become a staple in the horror community for year round horror theater. Their annual Urban Death is a terrifying experience as you are lead through short scenes of death, each more disturbing than the last. We recommend you purchase tickets prior to arriving, as groups are small and tend to sell out. Tickets are only $15, making it a great way to spend an evening with death.