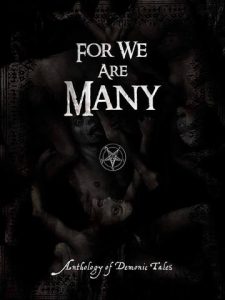 From the director of the highly stylized and mega awesome Unkindness of Ravens comes a new ambitious new project. A Horror film anthology inspired by demonology and the occult will take experienced filmmakers and some new up and comers through a dark and twisted road culminating an intense feature film.
For We Are Many will feature a large selection of short films based on the occult and will focus on intense horror, imaginative practical effects, and original stories.
The film will feature a host of familiar names as well as provide an exciting opportunity for up-and-coming filmmakers to get involved. Among the directors already confirmed are FrightFest Alumni Liam Regan (Banjo), Brad Watson (Hallow's Eve), Katie Bonham (Mindless) and genre icon Nicholas Vince, best known for his roles as the chatterer in Hellraiser and Kinski in Nightbreed, as well as Frank Woodward writer of Wrong Turn 6:Last Resort).
Director/producer Lawrie Brewster is the brain behind this project, and want to open it up to aspiring filmmakers.  "We are deeply passionate about seeking out new talent in the horror genre and helping to provide a platform for those with creative aspirations. Plenty of extremely talented filmmakers are putting out great short content, only for it to languish onYouTube." Brewster understands the struggle of being an aspiring filmmaker, especially in the over-saturated market we live in today. While he has some truly incredible credits and doesn't need to, he finds it important to help however he can.  "We thought that, with a little support and collaboration, we could instead give directors the opportunity to be part of something bigger that we hope can act as a springboard for their careers – and make something pretty amazing and unique in the process."
Hex Media has big ambitions in the genre with two features under their belt and another two in post-production. This latest project is an extension of their goal to produce truly independent, fiercely original horror.
Hex Media will also distribute the film, adding it to the growing catalog of their fledgling distribution wing and building on the success of their combined VOD/Special Edition model. The film is set for release in Spring 2018.
How can you be a part of For We Are Many? Well, all the details can be found here, so get your script writing hat on and get to work!