Brady Hall's 7 Witches is a dark comedy, located somewhere between The VVitch and Rachel Getting Married. Set during the wedding of Kate's sister, Rose, at a remote New England resort, it's a creepily atmospheric movie, shot through awkward familial tensions.
Hall makes every scene ache with portents. Images of food preparation are rarely imbued with so much strangeness, and the pairing of the two families presents so very much interesting contrast. The family of Roses wife-to-be, Aggie – the Sklars – are very very strange. They're akin to creepy Amish, but there is obviously more to them than meets the eye. Contrasting that with Kate's family – drunks and infighting all 'round – one would think this is going to be a battle of religious convictions. Once we learn that Kate is pregnant by her unknowing boyfriend and wannabe fiance, Cody, and anyone familiar with horror films knows that she's going to be the subject of some horrible things at some point.
With a title such as 7 Witches, the viewer has a pretty solid guess as to what the Sklars will be up to, especially given the opening scene of a woman being hunted by masked men at the film's outset. The strange behavior of the family, such as branding or Rose and Aggie seducing Cody, while the Sklars all look on, makes it only too apparent what might be in store later on.
The plotting might be obvious, but the way in which 7 Witches unfurls is the real fun. Hall gives the film a hallucinatory hellscape, and the scenes of food being carved, served, and plated are absolutely terrifying. The setting apart of the two families only serves to make the Sklars that much more dangerous and sinister. The entirety of the film has a gray pallor to it, lending the ostensibly celebratory event of a funeral, but it's crisp and highly-contrasted. Think Argento in black and white, almost.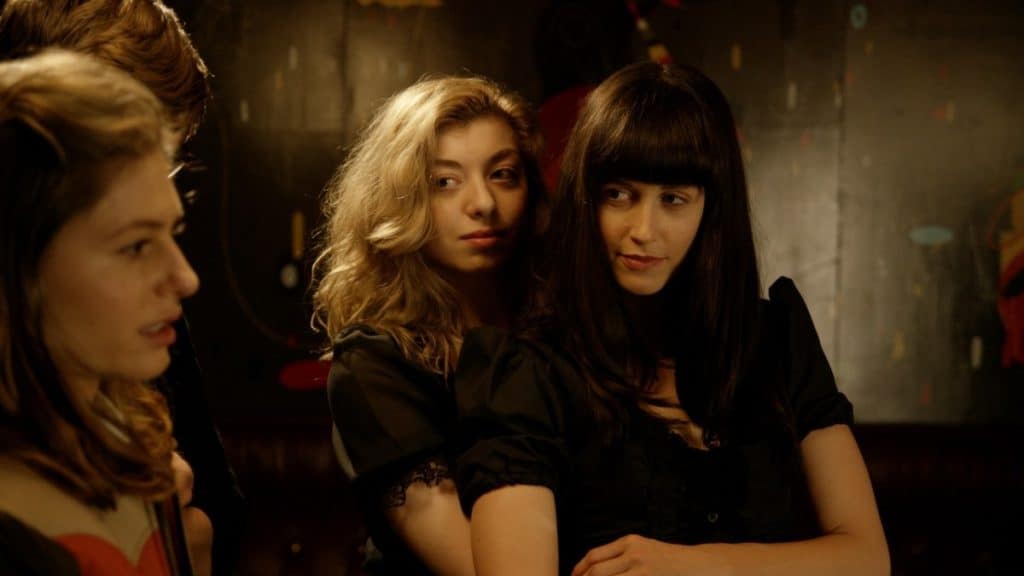 The acting might be a little amateurish, and the score a bit of a one-note trick, but all in all, 7 Witches manages to subvert expectations of what modern folk horror can be. The Wicker Man it is not, but fans of classic "return of the revenging witch" films like City of the Dead or Black Sunday will find much to enjoy in Hall's work.
7 Witches is available on DVD and VOD from Indican Pictures now.