This week's BLOOD BANK is very suiting for the title. What creature of the nights thirst for blood would have a feast when entering any real blood bank? Easy one, Vampires. So get your garlic out and be sure to have a wooden stake ready because this week We Are Indie Horror will be taking an in-depth look at the upcoming intriguing documentary being brought to life by Juliet Landau, A Place Among The Undead.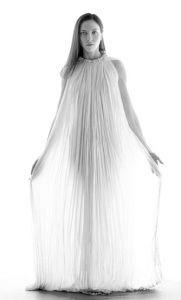 For those unfamiliar with Juliet Landau, here is a quick recap. Juliet has been a part of the vampire horror world since Joss Whedon casted her as Drusilla on the popular 90's shows Buffy The Vampire Slayer and Angel. Beyond her popular TV role she has also starred in over 20 films and have done extensive voiceover work for features, television, and video games. If you do not recognize her from Buffy, you may know her from Tim Burton's Ed Wood or when she starred alongside Whoopi Goldberg in Theodore Rex. She has also exercised her acting ability on stage with some of her favorite roles being Roberta in Danny and The Deep Blue Sea, Blanche in A Streetcar Named Desire, and Hennie in Awake and Sing. She is also no stranger to directing documentaries due to her films Take Flight which is about Gary Oldman and she co-directed Dream Out Loud which had interviews with Guillermo del Toro and many others.
Juliet and her husband and director of photography Deverill Weekes have taken a lot of time to go around and interview names within the vampire community of entertainment. In the opening video on the Indiegogo, Juliet states that after a near death experience in South Africa, they began thinking of their own mortality which led them to dive deeper into the world of vampires. Whenever she spends time with actors, directors, writers, or artists who live within that world, there has always been insightful, funny, and interesting conversations. She wants the world to see and experience the camaraderie and get an insiders view to these creators.
Juliet and Dev have already begun filming A Place Among The Undead and having the conversations with some of the industry's best. The project has gotten bigger than they originally intended. Initially the married duo were pitching to studios. Of course the studios were interested, but Juliet and Dev were not.
"It can't be made within the system and be as truthful, authentic, and special as it needs to be" – Juliet Landau
The visions of the direction for A Place Among The Undead were different. They are now giving YOU the opportunity to be a producer on this documentary. She states that this documentary will transcend the normal path a documentary takes and defines it as more of a tapestry with interlinking narrative films that follow the conversation. Vampires have always been a range of emotions and style. They can be sexy, scary, dark, mysterious, and everything in between. The fans of vampires are the ones who understand this and that is why she wants you to help make this film.
The list of names that they have already interviewed read as a who's who in the vampire world. They already have conversations with Tim Burton (Dark Shadows), Joss Whedon (Buffy The Vampire Slayer), Gary Oldman (Dracula 1992), Willem Dafoe (Shadow of the Vampire), Anne Rice(Interview With A Vampire), Robert Patrick (From Dusk Till Dawn: The Series), Charlaine Harris (True Blood; Writer), Kevin Grevioux (Underworld), Stephen Woolley (Interview With A Vampire; Producer), David Greenwalt (Angel & Buffy; Producer), Jim Kouf(Buffy; Writer), Cole Haddon (Dracula: TV Series; Writer), Tom Holland (Fright Night; Writer) , Mariana Klaveno (True Blood; Actress), Steve Niles (30 Days Of Night; Writer), E. Elias Merge (Shadow of the Vampire; Director) David J (Vampire Academy; Soundtrack Writer), Georges Jeanty (Buffy The Vampire Slayer Comic Book Artist), Madeline Smith (The Vampire Lovers 1970; Actress), Kim Newman (Anno Dracula; Writer) and Caroline Munro (Captain Kronos- Vampire Hunter; Actress). Over the past few weeks as the campaign has grown they have made incredible announcements as to who some of the other people they have talked to are. Nathan Fillion (Buffy), Christian Kane (Angel), and Kristin Bauer van Straten (True Blood; Actress) have all been a part of the conversation with each donating to create their own special perks which most of are already sold out. The Indiegogo also teases more people to be included as their campaign wraps up.

For the budget they are attempting to raise $65,000. On the Indiegogo page they break it down very nicely for us. They are really attempting to make this something big and beautiful. Most of the funds, 38% to be exact, will go into actual production. So items like locations, crew, stunts, cameras, equipment, and extras will be the bulk of the project. They do need funs for legal, as well as cast, and post production. Currently they are very close to their goal and will be ending on November 26.
Instead of donators, those who do donate are called producing partners. And like any crowdfunding campaign, there are perks if you want to be a producing partner. Whenever they announce a new name, new perks pop up that correspond with the person. Unfortunately they sell out fast. Other items still up for grabs are a signed film poster, a t-shirt, various different hand drawn posters which are all signed by the artist, downloadable photos from set, copies of the film, Book Of The Undead which is a photo journey documented by Gary Oldman and Deverill Weekes among many other different items. You could even end up on set, naming a character, and or at the red carpet premiere sometime next year.
The first video below is the introduction to the Indiegogo where you learn a lot of where the project came from and where it is going. The second is a 50 second tease to the film. If you'd like to become a producing partner with Juliet Landau on her vampire documentary A Place Among The Undead check the links below. Remember this is BLOOD BANK where every drop counts.