Grind-house exploitation films in horror can be made for cheap! Go to the ninety-nine cent  store, buy an old bedsheets, cut some holes in it, and throw some exposed breasts into the mix. Take out a camera and hit the record button. Bang! You got yourself an exploitation film. I would call it "The Ghostly Nipples." Not many a horror fan knows this fun fact, but "grind-house" was actually a term that came from the 1920s. Yes, we do know of grind-house theaters and how they would show exploitation films. The term actually came from the "grind policy," a film programming strategy which offered continuous showings of films at cut-rate ticket prices that rose over the course of each day. Just soak that fun fact  in some fresh blood and brains.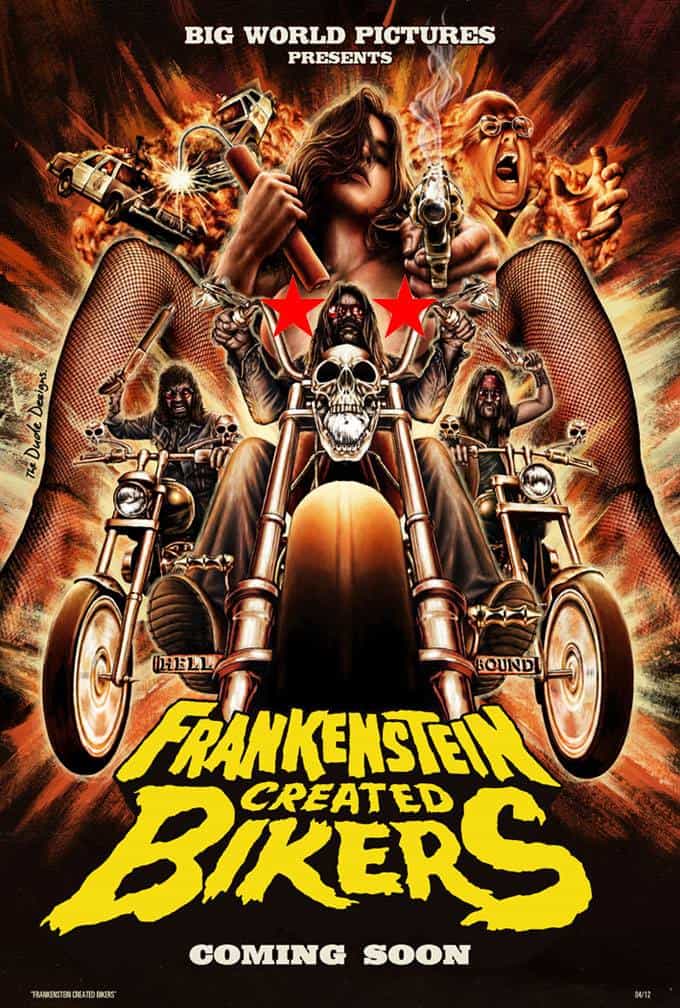 Why in more recent times has exploitation been a less-noticed breed of genre in horror cinema? Go make a cheap grind-house horror flick that can be earn a reputation as the next young Russ Meyer. We highly encourage you to include the following in your future "Faster, Pussycat! Kill! Kill!": sexploitation, violence, great voice-over work and my personal favorite piece of advice for the script supervisors out there, keep track of your continudity. Don't ever give up your dream of recording an extremely attractive woman shooting a massive piece of machinery. And there is no lack of that in the upcoming James Anthony Bickert's exploitation film, Frankenstein Created Bikers
We Are Indie Horror would like to introduce you to a recently exposed director, who uses themes of modern day horror exploitation in his films. Bickert, being no stranger to the genre, directed a grind-house feature in 2011 called, Dear God No And he is getting ready to come out in 2016 with his sequel to the film, Frankenstein Created Bikers. When an undead biker and his gang are after their daily fix of a past addiction, they are chased in pursuit by sirens, the cops, strippers (topless) , huntsmen, and more. The film stars: Tristan Risk (American Mary), Jett Bryant (Dear God No!), Laurence R . Harvey (The Human Centipede 2 & 3), and Ellie Church (Mania.)
Big World Pictures are the minds bringing this insanity to life. Production completed in May of 2015 and currently they are cleaning up the sound in post-production. After running a successful Kickstarter at the end of last year, the team behind Frankenstein Created Bikers is ready to bring back the style of ol' that is just flat out ridiculousness and fun.
To add to the awesomeness and grind-house feel, Frankenstein Created Bikers was entirely shot on film stock! This movie was shot on Cinemascope on Super 35mm Kodak film and runs about two and a half hours long. Bickert, knows what he's doing to entertain the fans of genre films from the 1970s to 1980s. I'm ready to watch undead bikers, naughty exposed body parts, boobs, and explosions that come from no-where. Grab your big busted, best friend and some fake blood from the discounted Halloween stores to film a movie in your grandmother's basement! Keep this genre alive! And…
Please follow and like us: