A few years ago the modern master of shock and gore, Rob Zombie, created his own Halloween haunt attraction with 3 original houses based off of his films with a live band playing every night. These houses proved to be a bit more intense than your general Halloween Horror Nights haunts.
This year We Are Indie Horror is more than excited to inform you about another metal band trying their creativity at a Halloween haunt. Slipknot presents Scream Park. This band of 9 is no stranger to anything horror, as shown by music videos such as "The Devil in I"and "Vermillion".
Opening message on their website
Welcome to the world's most outrageous haunted house event. Produced by the twisted minds of Slipknot, Slipknot's Scream Park offers 3 outrageous haunted houses and live horror entertainment. Named the Best in the West by Forbes and one of the top Halloween events in the nation by Haunted Attraction Magazine. Open 20 nights in October. Mature audiences only.
This event will have 3 house attractions.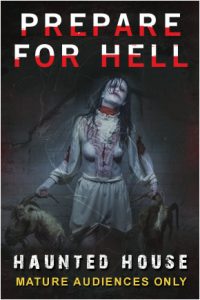 The first is called "Prepare For Hell", which was voted
scariest house in Southern California. This house is stylized in the vein of everything Slipknot and will take guests through hell's most obscene and shocking layer, reserved only for the most heinous individuals.
The second of three houses is a 3D maze which takes guests on a journey into the labyrinth through Clown's mind. Those who know Slipknot well, know most of the horrific imagery of Slipknot is clown's creation. Are you ready for "Clown's Playhouse"?
And the third and last house called "Skin Ticket" where guests become urban explorers through San Francisco's abandoned area and stumble into a serial killer's house where all the electricity has been shut off. Your group is given only a flashlight. Good luck!
All three of these sound incredible and intense. On select nights there will also be live entertainment scaring you in the queues. Also Slipknot's Scream Park will be the host of the Aftershock Music Festival Pre-Party featuring Hell or High Water. Guests can meet the executive producers of this event, Corey Taylor and Shawn "Clown" Crahan, on select nights that are currently unspecified.
Tickets start at $25 and the park runs from October 2nd to November 1st. Check out the video below for more information