Every FearMaker has their own story, their own path which brought them to where they are now. Many of the people we feature here are on their very own journey, struggling every day to reach a little bit higher on the totem pole that will inevitably bring them success. This week's Featured FearMaker is currently on his way up that totem pole. Let us introduce you to Marc Fratto owner, director, and producer at Insane-o-rama Productions, who is currently working on his latest feature film Crazy House. Before we get into that, let's take a look at how Marc got there.
Born and raised in the city that never sleeps, Marc Fratto always had a love for horror films. Anything nightmarish was able to grasp the attention of the young Fratto child. Monster movies like Godzilla and Gamera were his first introductions to horror film, along with the classic Sinbad films of the 1970's. In fact, the first movie theater experience for Marc came from a screening of The Golden Voyage of Sinbad. After that came the Spielberg summertime hit Jaws, which he saw in theaters at the age of six. The first true horror film Marc remembers seeing in a theater, however, was Ridley Scott's triumphant Alien. This film solidified Marc's love for horror and devoted his life to the genre.
By the age of 14, Marc was writing horror stories, sometimes writing in the form of a screenplay.When Marc first saw Sam Raimi's iconic masterpiece Evil Dead, he was able to recognize the direction behind the camera inevitably setting off a rapid chain of events which allowed for Marc to pick up a camera. Marc was now able to visualize his stories in cinematic form. 
Apart from making films, Marc is an avid musician. From the age of 5, he has played the piano.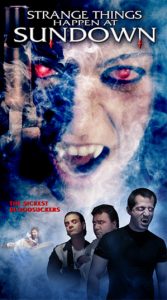 Beginning in the classical, and later on moving towards rock n' roll, Marc joined a band during his college years. After leaving his band in 2000, Marc felt the urge to make his first feature film. With his experience working on television, he set out to make his very first project, Strange Things Happen as Sundown. "The digital technology was a big incentive for me, combined with that I was working in television, and was very skilled at non linear editing and shooting. The timing just seemed to be really right for it. So I made my first movie. And then kept making them."
From then on there was no stopping Marc. He started his production company, Insane-o-rama Productions and kept pumping out films. His next film Zombies Anonymous, was released on DVD back in 2006, which received rave reviews, even winning a few awards from the New York City Horror Festival under it's previous title Last Rites of the Dead
Marc's latest film, Crazy House, is currently in pre-production. After a failed crowd funding attempt, Marc decided to make a short film to gain some attention to his next project, which so far has been working out well for him. The short film, First Night in the New House, has gained thousands of views on YouTube, as well as opened doors for investors.
Later this week will take a look at Marc's latest completed feature film, Hell Fire, which follows four girls who mistakenly kidnap the Anti-Christ.
" Being a musician helps film making a lot because I not only go into production knowing how certain scenes are going to be scored, but often I've written (or at least have a basic idea) of what the music will sound like before production starts." -Marc Fratto
Marc Fratto is an experienced and talented filmmaker. Not only does he write, produce, and direct his works, but he also makes all his own music along with his co-producer Frank Garfi. This DIY style of filmmaking is an excellent way to make a name in the industry. Not only does it cut down on production costs, but as Marc says, "being a musician helps film making a lot because I not only go into production knowing how certain scenes are going to be scored, but often I've written (or at least have a basic idea) of what the music will sound like before production starts."
We'd like to leave you with a few quotes from Marc after we asked him to give some advice for other independent filmmakers out there, this is what he had to say: "Make the best movie you can make. Make every scene great, and don't settle for good, and definitely not 'good enough'.  Good enough isn't great enough, as I always say… Storyboard everything, especially if you're doing it on an ultra low budget. Cast vigorously. Make sure your actors are great. Especially if you're shooting on a low budget and don't have the luxury of doing retake after retake for them to get it right. One take actors are a dream on a low budget set. Shoot lots of coverage. Sometimes magic happens in the edit room out of that extra footage you didn't think you'd need. My point is, if the great Martin Scorsese has to go in and fix shit that ain't working, there's a good chance you will, too."