The original Halloween Convention is returning to Los Angeles August 6-7, and is looking to be bigger than ever! ScareLA has been announcing several unique and exclusive experiences has now announced perhaps the biggest news of all; they will be opening their first ever original interactive haunt.
Your path to salvation or sacrifice will depend on what choices you make inside the cold dark chambers of Blood Offering. Every visceral pulse pounding scare in this immersive terror simulation originates from the legend of The Iron Witch.

"Bring forth your offerings; your devotion, your blood, your soul for eternal life. Are you willing?"
Blood Offering will be designed by  Legendary Maze Master Brooke Adair Walters (Knott's Scary Farm's Doll Factory, Trick Or Treat, Forevermore) and Prop Master Donald Julson (Van Helsing, Minority Report). Produced by Jon Schnitzer (Haunters: The Movie) and Executive Produced by ScareLA creator Lora Ivanova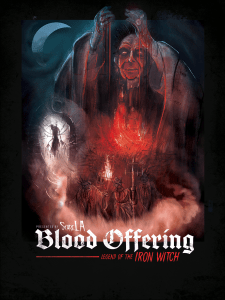 Not too much information has been given out yet about this new experience, only what has ben posted on the Blood Offering Facebook page. The closer we get to ScareLA, the more we will learn about the Iron Witch. We do know that is accompanied by some bad ass art designed by Professor Pizza of AXESLASHER. The poster looks like a Clive Barker film from the 80's, so if this is any indication, the haunt will be something to be reckoned with.
"Blood Offering has been such a hard secret to keep because we've been working on it for a while now." Says maze producer and ScareLA Program Director Jon Schnitzer. "We're such huge fans of Brooke Walters and her legendary mazes she created for Knott's Scary Farm, and Donald Julson is a creative genius. Every pulse pounding visceral scare is deeply rooted in the legend of the Iron Witch. This is an immersive experience that will not only make you scream your head off, but will keep your mind spinning about the story and the characters. Since the announcement we're getting more scare actors, builders, musicians and more reaching out to join our team and help take our haunt to the next level. I'm so proud to be a producer on this epic project."
Blood Offering is just one of many interactive experiences that will be appearing at ScareLA this Summer. They will be joining Heretic, CreepLA, and The Tension Experience, as well as several escape games including Cross Roads Escape Games, Mobile Escape Games and more. "Blood Offeringwill be 4 times larger than any other scare experience at ScareLA to date" Says Ivanova. Remember, this is all just tone part of the massive Halloween convention. There will also be a few hundred vendors, a mini film festival, celebrity panels, serial killer speed dating, and a whole lot more. Not to mention Elvira Mistress of the Dark live and in person.
Tickets are now available for ScareLA.