Here at We Are Indie Horror, we believe that horror isn't just for the screen. Immersive horror has been gaining a lot of steam in the past decade, with a rise in haunts around the country, with each one getting more extreme than the one before. Full immersion is something man y true horror fans have been waiting for, but if walking through  hallways filled with jump scares isn't enough for you, then you may want to try out an escape game.
The idea is simple: you are stuck in a room, now get out. While there are several escape games to be played, perhaps the most notable one resides in Sylmar, California, simply known as The Basement. This specific escape game was created by Kayden Ressel after visiting an escape game in Las Vegas. He felt it was necessary to mix the haunt and escape game worlds. At the time escape games were just gaining steam and Los Angeles seemed to lack a versatile in options. While escape games all have different themes, this particular one has a phenomenal horror driven backstory. You are being held captive by the insane serial killer Edward R. Tandy, a deranged man with mommy issues and cannibalistic tendencies. Escaping Tandy seems like a challenge, and boy was it ever.
The Basement Escape Games has three chapters to play in, each one progressing the story of Edward Tandy and your escape. Chapter one finds you in The Basement. Their flagship game, it fits about twelve people. Our group consisted of WAIH founders Brian Sapir and Neil King, Lisa Wilcox (Nightmare On Elm Street 4&5, Star Trek), Dummie's writer and director Joe Magna, Cimcie Nichols, and WAIH friend Rick Maxson. After having a black bag put over our heads and led into a small cage, the game begins. We found ourselves with another group of young girls, who ended up being extremely helpful in facilitating our escape. This game was a challenge. We found ourselves turning every thing over in attempt to find a way out. After all, in 45 minutes Edward was going to blast us with sleeping gas. We don't want to spoil anything here, but we did find a captive tied up somewhere which sets them apart from your standard escape game. We escaped just as the gas was being released, so we'll call it a win.
We skipped over the second chapter, The Boiler Room, to check out their newest creation, and possibly one of the coolest games we've played, Chapter Three: The Study
Here's the story so far: We were knocked out by the gas, only to wake up alone in the boiler room, which we apparently managed to escape somehow, and now we find ourselves in Edward's mother's study. Lisa had mysteriously left us, but we were joined by another puzzle buster Ana Sapir. This game was much more intimate. Where The Basement takes place in one large room, The Study takes you through several smaller rooms. We found ourselves deep into the story line, constantly looking over our shoulders for any signs of Edward or his lackeys. The puzzles were challenging yet intuitive, with incredible production value. It actually felt as though it was a stormy night, complete with raining windows, much like one would find at Disney's Tiki Room
We ran into a blind maid in The Study, who was not only helpful, but executed a flawless performance, adding to the creepy ambiance in the game. While these games are designed to challenge the mind more than scare, the story is so well curated that it is hard not to fall into its traps. We managed to escape The Study with a cool 14 minutes left on the clock.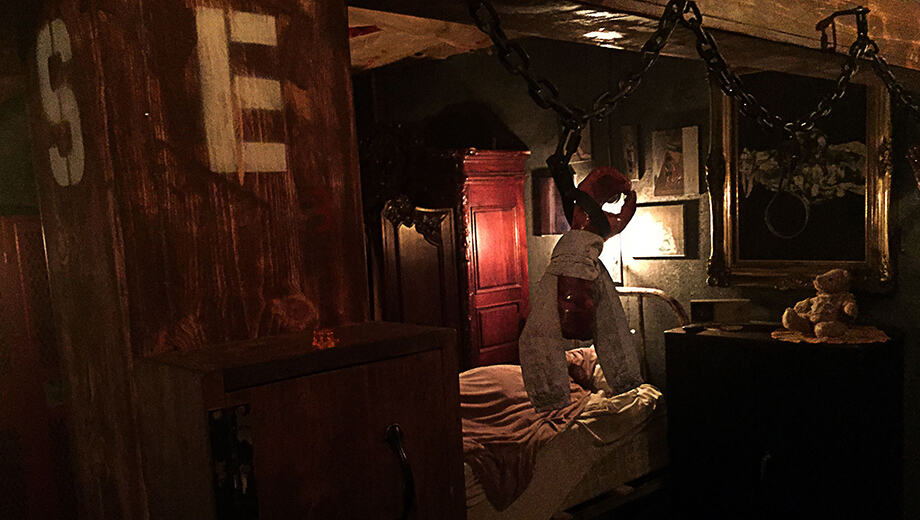 The Basement Escape Games has three games total, with each game having three different versions, so repeat victims can still work through different puzzles. While The Basement remains the flagship game, The Study is a much more intense experience, with it's pitch black darkness and group separating tactics, it makes sure everybody in your group has something to do. The Boiler Room will be shutting down at The Basement and will be reopening in the very near future with a bigger and better game which will explore more of the surroundings of the Tandy estate.
Overall it is no mystery why The Basement Escape Games is still the number one escape game in Los Angeles. It is fun, scary, exciting, challenging, and so well crafted, you'll find yourself begging to once again be in the clutches of Edward R. Tandy.