Brooklyn based writer and director Sean Melia (short films You Don't Know Me and The Administrator) purportedly made his debut feature film in just eight days on a very minuscule budget. Hank Boyd is Dead may have been crafted under the auspices of a micro-budget– using Broadway actors, and resources readily at hand to the director– but the production value here is incredible. Looking nothing like a micro-budget film, Melia proves that no idea is too big for the screen and exhibits a milieu of frugality, proactive problem-solving skills matched with an original and engaging script.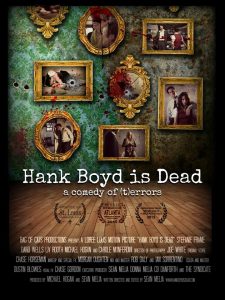 There is very little I can give away about Hank Boyd is Dead, simply because the film relies on its shocks and surprises, devices which propel the narrative and create a chaotic and nearly inescapable situation for our protagonist. Caterer Sarah Walsh (Stefanie Frame) has the honor of taking her services to Hank Boyd's vacuous wake, where no one, save for family, is expected to show up. Recently Hank committed suicide after being accused of the murder of a missing girl. He leaves behind an eccentric mother (Carole Monferdini)– who's not all there– and Hank's siblings, Aubrey (Liv Rooth) and local cop David (David Christopher Wells).
After overhearing something she wasn't supposed to, Sarah is held against her will at the Boyd residence where secrets of a dark, twisted, and dysfunctional family are revealed. Sarah must use her wits and caution to escape the Boyd residence– a demented house full of idiosyncratic characters. Although Sarah went to school with Hank and David– and on-premise stickler cop, Ray (Michael Hogan)– nothing and no one is what they seem.
Hank Boyd is Dead is an amusing and often funny comedy-horror that packs the blood-drenched punches and doesn't hold back. Part of the joy of this film is its flurry of lurid secrets which are slowly revealed and infused with images of old home movies and interviews with those that knew the family. The film feels like the Jack Hill-Lon Chaney, Jr. cult classic, Spider Baby, or The Maddest Story Ever Told, and somehow manages to be much more devilish and spry than that film. Sporting a magnificent story, that is fresh and fascinating from beginning to end, the film can't help but sport a devilish grin as it traverses through its demented and darkly comic story.
I have to give a shout-out to a fine cast and their performances; all of whom bring a wonderful idiosyncratic pallette of talent. The film's tour-de-force performance goes to a fantastically two-faced David Boyd played by David Christopher Wells, offering a truly magnificent performance as the hot-headed cop brother trying to maintain the family and its secrets.
How can you get your hands on this fantastic horror film? Well, there are several ways to obtain the award winning Hank Boyd is Dead (Spotlight Horror, St. Louis International Film Festival, and Atlanta Horror Film Festival); one, of course, would be to wait for the Spring online rental and purchase release. You can also enter a contest by May 1 to win one of 100 signed DVD copies signed by cast and director! The winners will be announced May 15. You can head over to HankBoydisDead.com now for more details on the film and on how to enter the contest.